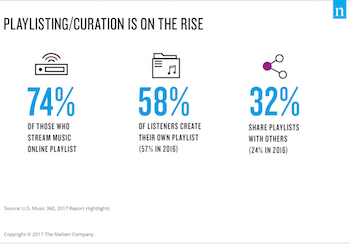 Nielsen has released its latest Music 360 report, an analysis that touches on several key trends in the U.S. music industry's ongoing shifts into the digital space. First, it highlights a growing interest in playlists and music curation, with 58% of respondents making their own song compilations. Playlists were deemed "an important part of their streaming experience" for 38%. 32% said their share their created playlists with others and 35% said they listen to public playlists centered on genres or moods.
Despite the high interest in streaming, radio continues to hold a strong share. Not only do 72% of music streamers listen to some form of radio, but AM/FM broadcasting is still the top source of music discovery for 49% of respondents. Music discovery by online radio rose from 19% in 2016 to 23% in 2017, and satellite radio saw lift from 11% in 2016 to 14% in the latest report. Online music services were the top discovery source for 27%. Among those who do pursue online music discovery, 18% said that having the "best exclusive content" was one of the top five most important factors in their choice of platform to use.
The report also reflected a growing technology segment for music, noting that an average of 3.4 devices are used weekly for engaging with tunes. Among teens and Millennials, the average is 3.8 devices. Streaming subscribers use 4.7 devices weekly on average and AM/FM radio streamers use 5.5.