Edison Research and NPR have released the latest updateof The Smart Audio Report, with December 2018 survey results about smart speakers. The update is freely available HERE … and that page  also has qualitative research videos of families and individuals using smart speakers and discussing why they are important.
The past year saw the addition of 14 million new smart speaker owners for a total of about 53 million people. That equates to roughly 21% of adults in the United States. The product segment is still firmly in the early majority phase of adoption, which it began with the January 2018 edition of the report.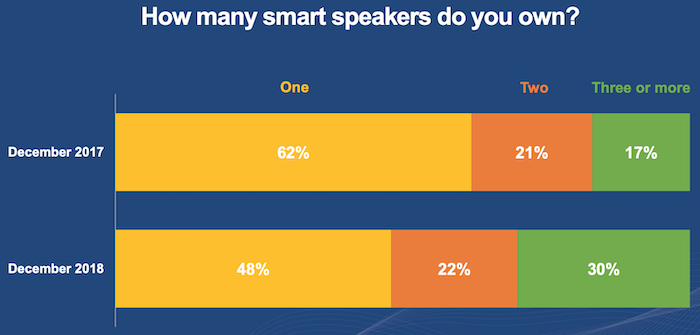 The number of smart speakers in households grew from 66.7 million in December 2017 to 118.5 million in December 2018, a 78% increase. The latest results also included a larger share of households that own three or more smart speakers, growing from 17% in 2017 to 30% in 2018. The share of households with two smart speakers also edged up from 21% to 22%.
More than half of smart speaker owners said they use the devices daily, with 29% using them several times a day and 24% using them "nearly every day." Those regular users outnumbered the 16% who said they never use their smart speakers.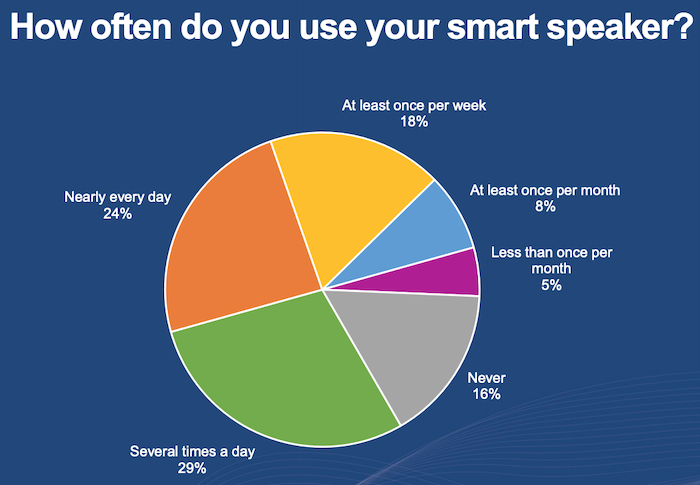 "The growth in ownership, particularly the increase in devices per household, really speaks to the tremendous utility of voice assistant technology," said Tom Webster, Edison's senior vice president. "While these devices initially served as audio appliances, they are now becoming integrated into the fabric of everyday life for tens of millions of Americans."
The latest iteration of the Smart Audio Report is based on telephone interviews with a sample of 1,002 respondents from December 26-30, 2018. The data is weighted to represent the U.S. population older than age 18.