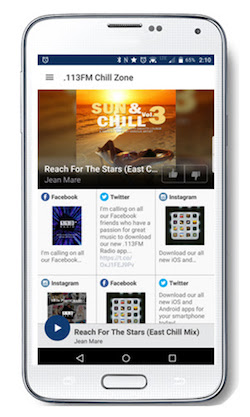 Internet radio platform SHOUTcast has sealed a partnership with Nobex Partners, the two companies announced today.
Under this arrangement, Nobex will make available white label mobile apps for SHOUTcast's 73,000 stations. The apps, which will be provided free of charge to the stations, will have features such as integrated playlists, social feeds, linked podcasts, customizable home screens, and integrated YouTube players. Apps generate revenue from audio and visual ad mechanisms, and that revenue is shared between the stations.
The integration is designed to make it easy for station owners to benefit. "Just a few clicks" is how the press release describes the process. The apps are created behind the scenes, and submitted to major mobile platforms.
Usage analytics are included for stations at no charge. A "Pro" plan for $90/month provides more advanced metrics around playlist performance, top songs, and listener engagement. Nobex's analytics platform has been under continuous development for over a year.
"SHOUTcast is dedicated to provide the best tools to the digital broadcasters in order to succeed with their programming and to build a strong audience," said Thierry Ascarez, SHOUTcast's chief business officer. "This partnership goes in line with that goal and we are very happy to do it with Nobex Partners. A better understanding of a station performance is key and with Nobex Partners, SHOUTcast now brings a powerful tool for its users."
"We are very happy to partner with SHOUTcast and offer our leading applications and analytics to all the SHOUTcast stations," said Nobex CEO Gadi Mazor. "We have worked closely with SHOUTcast to make it seamless for stations to set up their apps and use the Dashboard and analytics. We look forward to servicing many SHOUTcast stations."