Part of Pandora's exclusive deal with the second season of hit podcast Serial, announced earlier this month, is streaming rights to the first season. That started on Tuesday, and gave us a preview of the unique presentation planned for the new season (whose start date is unknown as of now).
Because long-form narrative podcasting is so different from the normal song library of Pandora tracks, the service will carve each Serial episode into five-minute bites. Pandora calls this "chapterized" content, and promises it will make it easier to listen in portions, and return to a previous leave-off point. IN the Pandora web app, Serial "chapters" look like this: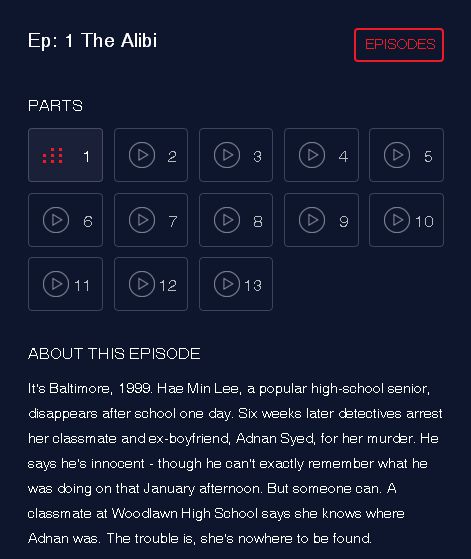 Each Serial snack is five minutes long. Users can leave off, and return to the exit point to resume listening, Netflix-like.
In our 10-plus years of following podcasts, this presentation is unique. It is sensible and useful — not only for the breaking up of long episodes in the era of short attention spans and drive-time listening, but also because cloud bookmarking of exit points is sorely missing from podcast platforms. It is easy to imagine Pandora extending this innovation to other programs. Or maybe it's wishful thinking on our part.