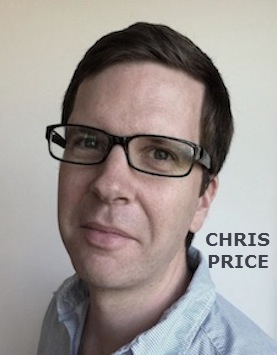 This guest column by Music Content Strategist and former BBC, MTV and Last.fm executive Chris Price, was originally published on his New Slang Media site.
---
They say there are three subjects you should never bring up in polite company: politics, religion and money. I'd like to offer a fourth – country music.
A taste for twang is a tiny taboo. Fellow fans will surely recognise the awkward silence that follows a declaration of love for country – a silence sometimes accompanied by a look of disgust that makes you wonder if you haven't mistakenly just confessed to a fondness for sexual congress with kittens.
Which is a problem for me, because one of the few things I love as much as country music is talking about country music. Spreading the word. I love to talk about about country so much that I once dragged my friend Joe Harland 2,500 miles across America trying to make him love Gram Parsons.
So I always feel compelled to fill that conversational cul-de-sac with a qualification: "Only real country, you understand. Waylon, Willie, Gram, Johnny – obviously I hate Garth Brooks and Dierks Bentley." There then follows a sigh of relief on the part of your interlocutor, who jokingly declares that you can indeed remain friends.
Daniel Romano, a young Juno-nominated singer from Canada, is real country. My friend Matt turned me onto him a month or so ago (via Facebook private message, discovery fans), and his album If I've Only One Time Askin' has been on repeat ever since. If you like your country rhinestone-studded, swathed in swooning pedal steel and drenched in Wichita Lineman-esque strings, chances are you will too.
Digging into his catalogue on Spotify I was equal parts overjoyed and dismayed to learn that If I've Only One Time Askin' is Romano's fourth LP. What joy, to find a new obsession with a full four albums' worth of discovery to look forward to. But why hadn't I heard of him before? I'm a super-streamer, passionate countryphile, and flatter myself to think I'm an early adopter musically.
What's more, I use artist and genre radio frequently, mainly on Spotify and Pandora. If they were doing their job, surely I'd have bumped into Daniel Romano years ago? As similar artists go, he's like triangulating on three cornerstones of my record collection: a vocal spit for Willie Nelson who writes like Gram and arranges like Glen Campbell.
But take a look at Romano's similar artists on Spotify – in fact on almost any streaming service you care to mention – and you won't see them. Fans of Willie Nelson, Gram Parsons and Glen Campbell would love Daniel Romano if he could reach them. But for now he must rely on 'old' radio and the press to do that, because streaming services apparently aren't beating a discovery path to his door.
Likewise Sturgill Simpson, whose incredible second album Metamodern Sounds in Country Music has been described as an "exemplar of what the country mainstream isn't," draws on many of the sixties and seventies outlaw influences mentioned above. Simpson's insistence that, while "I'll never get tired of being told I sound like Waylon Jennings, […] I don't hear it myself' just goes to prove that the only person not hearing the true sound of a voice is the person using it. But scan his similar artists on, say, Apple Music, and Waylon is nowhere to be found.
And there's an interesting corollary in soul. Leon Bridges and Curtis Harding, frequently grouped together as 'new stars of classic soul', are advanced students both of the sound and the era. You might say they are to Otis Redding and Sam Cooke as Romano and Simpson are to Willie and Waylon. But you'll struggle to find these obvious classic soul influences in their similar artist lists.
All of which highlights the challenge of discovering New Music That Sounds Like Old Music. Most streaming services, with the notable exception of Pandora, extrapolate artist similarity based on a statistically significant overlap between listener groups, not unlike Amazon's 'other people also bought' recommendations. If a lot of people who listen to artist X also listen to artist Y, then artists X and Y are similar.
But listener groups don't coalesce neatly around genres or similarity of sound. As broadcast radio knows, listeners also lie along another spectrum; early adopters listen to stuff that more 'contented' listeners haven't yet been turned onto. So the similar artists of new acts on Spotify – and in this context I'm talking about artists whose entire repertoire falls into the 21st century – will overlap only with other relative newcomers.
To see what was going on, I decided to look at the numbers. Starting with Spotify, I determined the comparative 'newness' – or recording era – of an artist by pulling the release year of the first and most recent albums for every act in the related artists lists for our vintage-sounding new acts Romano, Simpson, Bridges and Harding. (The Spotify API also outputs an artist 'popularity index', which seems to be based partly on the 'currency' of plays, i.e. songs and artists played a lot now are more popular than those played a long time ago, but since it's not clearly defined in their API documentation I ignored it.)
Daniel Romano's related artists – Robert Ellis, The Deep Dark Woods and Lydia Loveless, to pick a handful – are all relatively new, with an average debut release year of 2008. Sturgill Simpson's related artists, which do include some more well-established names like Justin Townes Earle and Drive-By Truckers among many, many newer artists (and crucially not Waylon Jennings), have an average debut release year of 2007.
Conversely, Willie Nelson's related artists have an average release span of 1975 to 2013, Gram Parsons' of 1980 to 2009, Waylon Jennings' of 1977 to 2014, and Glen Campbell's of 1976 to 2014. But of course they don't include Daniel Romano or Sturgill Simpson. The related artists of nu-soul acts Leon Bridges and Curtis Harding have release spans of 2013 to 2014 and 2011 to 2014 respectively, while Sam Cooke and Otis Redding both run mid-sixties to 2012.
Which suggests that Spotify's related artists are pulling heavily – perhaps only – on acts with comparable release windows, explaining the absence of those plain-as-the-nose-on-your-face-alikes from thirty and forty years prior. (It's significant that Spotify uses the word 'related' rather than 'similar' here – ever so slightly letting them off the hook, although I still question the user experience.)
A glance at Deezer suggests they fare slightly better. Their similar artists tab for Romano also returns mostly new acts but, being five times longer than Spotify's, does manage to pull in Townes Van Zandt and The Jayhawks – just not Willie, Gram or Glen. Sam Cooke does appear on the similar artists list for Leon Bridges, but so do a litany of artists without the slightest connection to soul music – Courtney Barnett, Ryan Adams and Beach House to name a few.
Apple Music's six similar artists for Daniel Romano are a curious hotchpotch, the most well known among them being Jason Isbell. They do much better with Leon Bridges, surfacing Curtis Harding, Alabama Shakes and Charles Bradley, and even call out Otis Redding and Sam Cooke separately as influences. (Apple Music and All Music appear to be the only services that do this – more please.)
Pandora is different, and not just because it's a pure play radio service. Its recommendations are a blend of algorithms and human, musicological analysis examining up to 450 song attributes – the so-called Music Genome Project on which Pandora is built. They don't display many similar artists publicly, but credit to them for surfacing The Flying Burrito Brothers among the five listed for Romano.
Unable to make a direct comparison with the all-you-can-eat services, I decided simply to listen to Willie Nelson radio for a couple of hours and see what artists came up, and how their release spans compared. The similar artists rotated were all heritage acts – Johnny Cash, Waylon Jennings, Merle Haggard, The Highwaymen, Kris Kristofferson etc., with an average release span of 1971 to 2010. Not much hope for Daniel Romano there.
(Note that I was listening to Pandora on the web, which as far as I can tell doesn't have a 'fine tune' functionality, as some internet radio services do, allowing the user to adjust the familiarity level of their chosen station. Note also that, as with my previous radio comparison, I elected not to skip or 'thumb' any tracks.)
None of the foregoing is intended to be a dig at any particular service, just serve as an illustration of the peculiar challenge of surfacing New Music That Sounds Like Old Music. And it's a problem, I think, that streaming services could profitably spend time trying to solve. The debate over whether streaming – and in particular internet radio – is promotional or substitutional rages on.
Pandora commissioned a study on precisely this last year, hoping that proof of the 'Pandora Effect' would positively impact the statutory rate it pays to SoundExchange for recordings. With global ambitions and thawing relationships with repertoire owners, I can't help thinking Pandora and services like it would benefit from being able to demonstrate a promotional effect not just for heritage artists, but for new ones that sound like them too.
Put another way, is internet radio doing everything it can to help Daniel Romano find his audience? As a streaming evangelist I'm optimistic about the possibilities for new artists. But as a fan I don't yet feel confident enough to hand the discovery reins completely to my streaming providers. I won't be giving up 'old' radio, the music press, or my Facebook inbox any time soon.