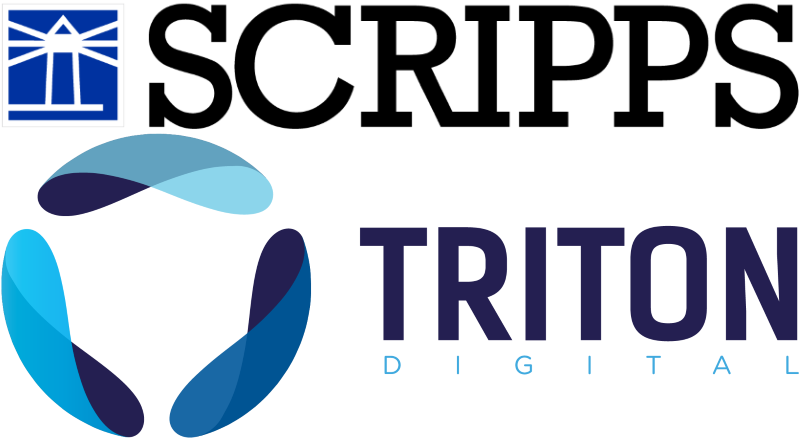 E.W. Scripps announced this morning that it has acquired Triton Digital, the leading ratings service for streaming audio and a global infrastructure service for digital audio delivery.
The acquisition carries a price tag of $150-million, cash. The announcement includes a glimpse into Triton finances: 2018 revenue is projected to be approximately $40-million. A 2019 projection puts growth in the low to mid teens percent range (so, in the neighborhood of $46-million).
There is no reported change to Triton's leadership in this acquisition.
Triton's tech stack is an end-to-end operation that can enable streaming and measure its consumption. The company also works with the advertising side of digital audio with programmatic and ad-injection services for streaming music and podcasting publishers. If that sounds like tech buzz, here is the no-buzz version: Triton can create and host an online audio stream, measure its audience, and manage the commercials that go into it. The company has many affiliations around the world which leverage Triton's programmatic platform on behalf of audio publishers, whether streaming broadcast or pureplay internet radio.
"Since its inception, Triton has partnered with the largest and most successful audio companies across the nation and around the world to support the growth of the streaming audio ecosystem," said Triton co-founder and CEO Neal Schore. "Joining Scripps, a company known for its focus on the future of media, will support our continued innovation and will strengthen the products and services we offer to our clients here in the U.S. and as we continue our expansion across the globe."
Webcast Metrics Top 20 Ranker is probably Triton's best known public-facing product — a monthly report which chronicles the streaming ratings of the company's top 20 clients, representing both broadcast groups and online-only music services. (RAIN has tracked the Top 20 Ranker since 2009.)
"Triton positions Scripps well to expand its role in the fast-growing global digital audio marketplace," said Scripps CEO Adam Symson. "Triton's efficient business model, multiple growing revenue streams, competitive advantages and expanding international footprint made this an attractive opportunity."
Scripps, a venerable American media company founded in 1878, has been executing a digital pivot during the past three-plus years. In June 2015 the company acquired Midroll Media, and later bolstered that acquisition with the addition of Stitcher which it acquired from Deezer. In January of this year, Scripps trimmed its staff and also announced its exit from the broadcast radio business entirely, putting its stations up for sale. Symson, the force behind all these shifts, took over the CEO role in August of last year.
With all this, Scripps is still committed to its television division. "The acquisition of additional television stations remains our No. 1 M&A priority, with the goal of enhancing our national scale and in-market depth for our Local Media portfolio," he said. "On the National Media side, acquiring Triton complements our strategy of owning growth businesses that capitalize on the evolving habits of media consumers and furthers our commitment to margin expansion."