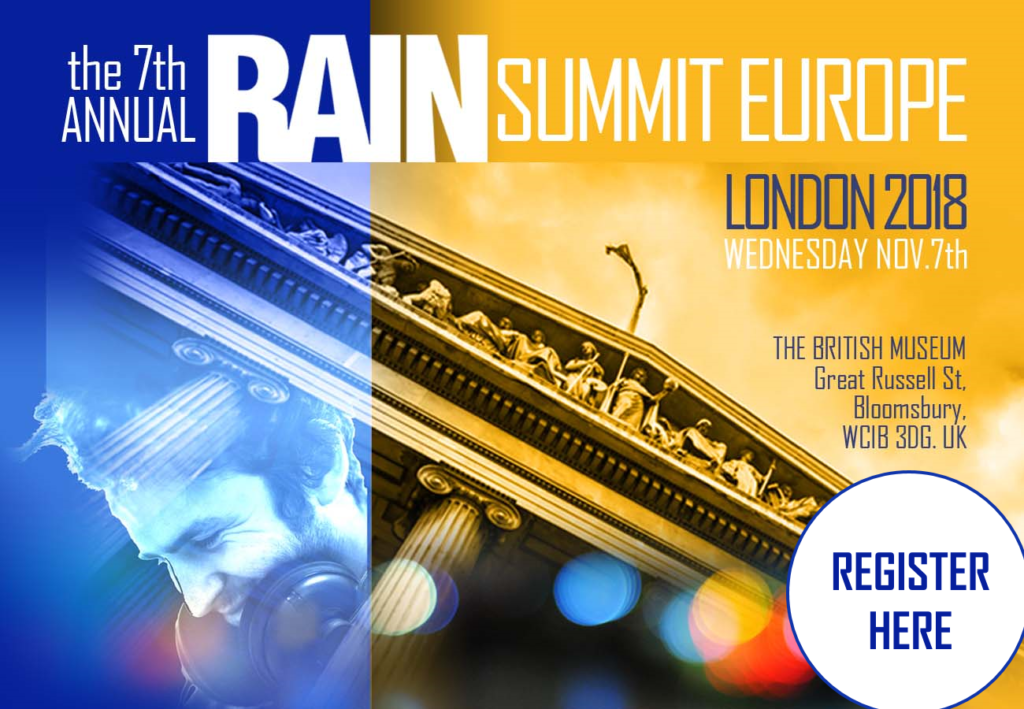 On Wednesday, November 7, in the BP Lecture Theatre of the British Museum, RAIN returns for the 7th annual RAIN Summit Europe. This exceptionally successful event is much anticipated by delegates in the U.K. and the continent, with over 250 registrations in 2017. Here's what some of those attendees said about the experience:
"The amount of information and opportunity was overwhelming, but in a good way!"
"Well organized, providing lots of insights, updates and finishing touches on existing common radio-wisdom."
"Great presentations, solid networking."
"It was inspiring."
"An excellent, fast-paced, well-themed day of discussions and presentation."
"The best chance in Europe to know the state of the Audio Industry."
A few of this year's features:
Keynote Interview with Jason Phipps, BBC Commissioning Editor for Podcasts

Insight and perspective from MIDiA Research: Radio and Streaming — Learning to Live Together, presented by Zach Fuller
Radio 360: RAIN's international roundtable of experts in the digital side of broadcast
Fireside Chat with Joe Copeman, UK country Manager and Director of Sales for podcast company Acast
Creating Currency in Podcasting: An international panel exploring the way forward with measurement and data in podcasting
Podcast Showcase, hosted by Global
Kurt Hanson: State of the Industry — the annual tradition, lighthearted and deeply insightful
…and much more, including lunch and post-event cocktail reception. Come for the knowledge, stay for the networking — or the reverse. RAIN is the knowledge and networking organization for the online audio industry.