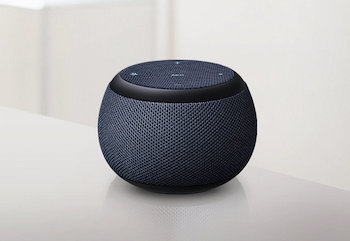 Samsung has been quiet about its smart speaker efforts for some time, but the company is now sharing a new planned release window for one of the long-awaited projects. The Galaxy Home Mini is now expected to be available for purchase in "early 2020." Hyunsuk Kim, CEO of Samsung's consumer electronics division, gave the update during CES.
Part of the delay has been a shift in focus for the smart speaker. Rather than develop its Bixby voice assistant to have conversations, Samsung has worked to make the Mini its control hub for other smart home devices. Kim shared that change in scope in June.
"It's not about when we release the product, but it's more crucial how much further we can evolve the technology," Kim said at CES. "No other speaker in the world can control gadgets as much as Samsung can."
Although Kim did have an update about the Galaxy Home Mini, it's unclear whether the Galaxy Home will ever see a launch. The larger device was introduced in August 2018, but after being delayed multiple times, Samsung has stopped sharing news about the product. It appears that the company has not decided whether or not it will ever release it.