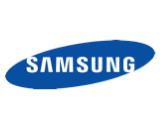 Samsung teased its first foray into smart speakers in August, and the tech company is still forging ahead with new ideas before that debut project has even launched. After introducing the Samsung Galaxy Home last year, a new FCC filing from the tech giant shows that it is working on a second, smaller device. The filing confirms a rumor from the start of 2019 that indicated a miniature version of the Galaxy Home was under construction.
The product is called an "AI speaker" in the filing. The lone image of it shows a rounded cylinder design somewhat similar to the oval shape of the Samsung Galaxy Home, but without the original system's tripod stand.
Samsung hasn't shared any timeline for release of either the Galaxy Home or its miniature version. The company had projected an April launch for the Galaxy Home, but that deadline has come and gone with no updates.
Despite the delays in arriving to market, Samsung's strategy for a pair of voice-activated speakers does follow the existing paths set by Amazon with its Echo line and Google with its Home products. Both of the market leaders have been seeing strong sales of their smaller versions on the international stage.