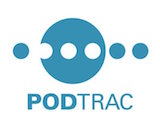 Podtrac has made some changes to its measurement algorithm. The company announced the updates at the same time as it introduced a new company blog. The first post explained that this significant change to its measurements is part of Podtrac's efforts to receive compliance and certification from the Interactive Advertising Bureau. It had already been compliant with the IAB guidelines, but it began the official certification program in late 2018.
"Podtrac is supportive of the IAB Guidelines and advocates for wide adoption of the Guidelines across the industry," the company said. "A shared understanding of podcast metrics is necessary to support the continued growth of podcasting and to give advertisers and investors the support they need to confidently expand investment in the industry."
The company laid out expectations of how its clients may see their numbers change as a result of the algorithm updates. The two metrics for reach — the unique monthly audience in the United States and globally — are not expected to alter due to the updates. However, Podtrac noted that download metrics will likely appear lower under the new system.
The new algorithm for downloads is expected to take effect on June 1 in clients' dashboards. The changes were incorporated for the first time in the April 2019 ranker for the top ten publishers, released earlier this week.