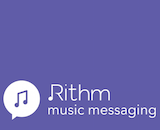 Kids these days and their real-time, instant communication. Messaging and social apps have been seeing an increase in popularity, and several are experimenting with a musical angle. The latest is Rithm, a social music messaging service that officially launched its commercial listening platform today.
Thanks to partnerships with major and indie labels including Universal Music Group, Sony Music Entertainment, Warner Music Group, and The Orchard, Rithm will have access to a large library of licensed music. The premium service, dubbed Rithm Gold, costs $3.99 a month and allows its members to listen to complete tracks in their chats. Gold members can also create on-demand playlists within the app. The free, ad-supported version of Rithm only allows playing clips of a track in chats.
Rithm is one of several mobile apps exploring this overlap between music listening and a social experience. For instance, the recently launched urRadio adds a layer of live broadcasting to its musical and social experience. Guvera also added an interactive broadcast service called Fradio. Snapchat added support for music in its disappearing video clips. Messaging app Line took over MixRadio and plans to launch streaming. And there are many more making names for themselves. Several established on-demand listening platforms like Spotify have features that allow for social sharing, but not to this immediate, real-time degree. We're likely looking at a cycle of even more experimentation with mobile, music, and messaging. As more mobile apps emerge for sharing music, it's likely to continue pushing the mobile listening trend forward, which will surely encourage more app development, and so on.