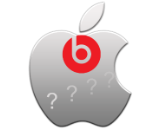 The European Commission, Europe's main regulatory agency for business competition, has requested information from music labels about their agreements with Apple, according to the Financial Times. (Gated link here.) The inquiries are related to the planned relaunch of Beats Music this summer.
While not a formal investigation at this point, the concern is reportedly about Apple's heft in the music industry, and the potential influence that might have on competing services. Specifically, whether Apple's negotiating power might cause labels to withdraw from "freemium" music-listening platforms such as Spotify Free, the most-publicized and controversial ad-supported on-demand streaming plan. Spotify Free is intended to funnel users to Spotify Premium, the monthly subscription service, and is a point of contention in licensing discussions between Spotify and record labels.
If this situation escalates, it will be a case of Apple potentially choking off music content from competitors like Spotify through label agreements that might be deemed colluding.
Spotify Free gives away music access (monetized by commercials) to introduce users to the pleasures of on-demand streaming and eventually get them to pay for enhanced features. Spotify is the clear market leader among on-demand music services, and serves about 15-million monthly subscribers.
The European Commission's preliminary probes are a result of a complaint, but nobody seems to know who, or what company, started the ball rolling, according to the Financial Times.