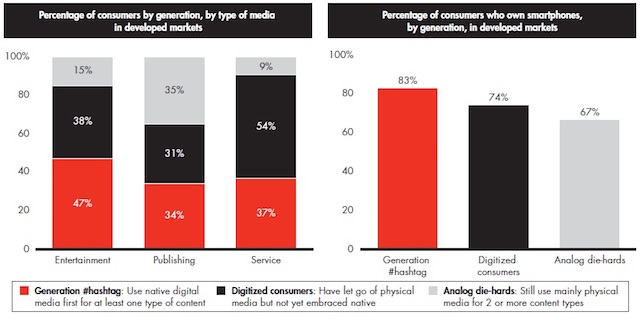 New research by Bain & Company determined that native digital media has reached a critical mass, and give some insights into how companies in entertainment, publishing, and services could begin to adapt. "Entertainment has passed a point of no return in its transition to native digital," the report said. It pointed to five key points that businesses would need to address in order to see the most success: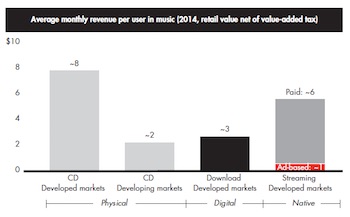 Rethink content strategy
Secure distribution routes
Embrace the new rules of advertising
Capture and make good use of consumer data
Revise the M&A toolkit
One of the most telling data points supporting Bain's claims are the growing size of the people who are digital natives. Bain dubs this group Generation #hashtag, and they make up 47% of consumers in developed markets and 37% in developing markets. The key distinction for this demographic is that they favor digital content over digitized content. For instance, in the case of music, that means wanting streaming services as opposed to MP3 downloads.
The report offered a closer look at some data around the music industry, detailing the average monthly revenue per user for different music formats. While CDs clock in around $8 for developed markets, the digital native option is close behind at roughly $6 for paid streaming and about $1 for ad-based. Also of interest, in a breakdown of entertainment models by age, younger listeners seem more inclined to pay for their music consumption. The 15-25 age bracket had 34% participating in digitally monetized music, including downloads, streaming, or both. Those aged 26 and older only had 18% involvement.
"Overall, the monetization of native models remains a work in progress as native players explore new ways to raise revenue from users, advertisers and supply partners," Bain said. "As they learn, they are building scale, counting on the network effects to gain control of market share." It noted that in the music world, services have been offering perks such as better curation, audio quality or exclusive content to attract paying users, but predicting the long-term success for that strategy is difficult. The report concluded with "a new monetization map" that traced connections between the many players participating in these digital native platforms.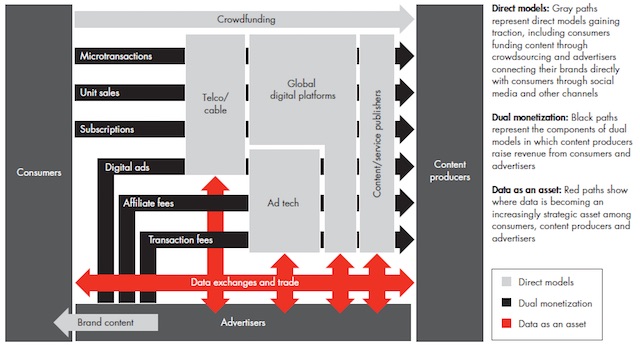 In laying out strategies for businesses to navigate this monetization web, Bain emphasized the need to have reliable and secure distribution channels and to be open to new advertising trends. These are two topics we spend a lot of time on here at RAIN News, and it seems unlikely that they will become any less integral to the digital audio field over the coming years.