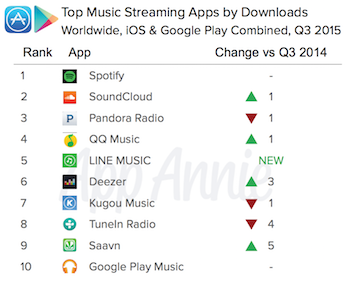 App Annie has released a report on the top mobile music apps for the third quarter of 2015. Spotify topped the charts for worldwide active users, revenue, and downloads on both iOS and Android platforms. Pandora took the second spot across operating systems in active users and revenue on the worldwide ratings, but it was the top dog by active users and downloads within the U.S.
Several of the combined charts showed a heavy international bent, featuring apps based in South Korea and India rising through the ranks to land in the top 10. Saavn and Gaana put up strong quarterly numbers, especially on the Android side. Japan's Line Music also made a positive first showing, ranking No. 5 in downloads. Although Japan still has the reputation of a CD-centric market, it has several domestic and international mobile music apps that are performing well.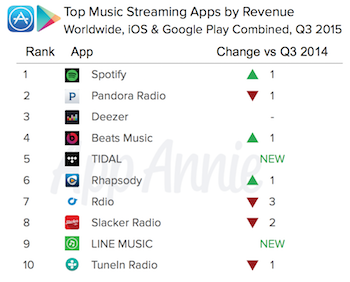 Outside of the competition between services, App Annie also shared insights into the general performance of streaming on mobile platforms. Compared with the year-ago quarter, worldwide revenue across operating systems for mobile increased 105%. In terms of future competition, the report pointed to Apple Music, SoundCloud, Deezer, and YouTube as ones to watch.