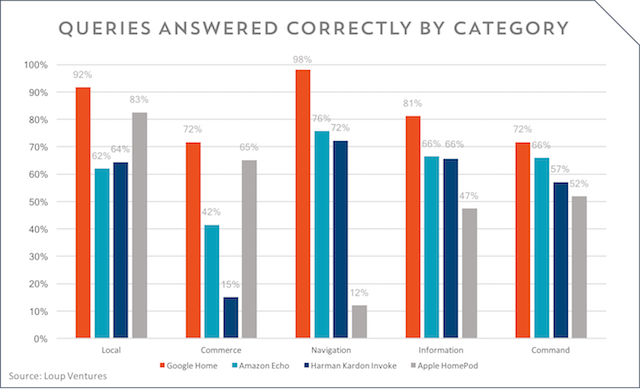 Apple HomePod is still making headlines as the newest contender in the smart speaker space. Loup Ventures conducted some insightful research comparing Siri on the HomePod with rival voice AI systems. The company used the Harman Kardon Invoke speaker for Cortana and the Amazon Echo to test Alexa. Siri only answered 52.3% of queries correctly, compared with 81% for Google Home, 64% for Alexa devices and 57% for Microsoft's Cortana.
Although Siri's rate of correct answers was low, the system did understand 99.4% of queries. It was most successful providing responses for questions about local options and commerce, besting the rates from Alexa and Cortana in those categories.
Loup Ventures noted that Siri's score will improve once the HomePod adds support for more services. Currently the speaker doesn't connect to Apple's systems for navigation, calendar, email, and calling. When those unsupported domains were removed, Siri's score for correct responses jumped to 67%.
The early reviews of the Apple HomePod had pointed to issues with Siri as a major issue with the speaker. Lack of third-party listening options was the other key criticism. Reviewers have universally applauded the HomePod's audio quality.