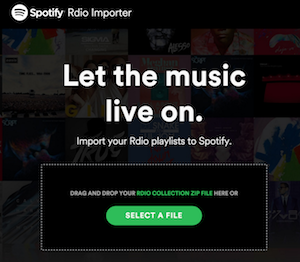 With the closure of Rdio, it makes sense that the streaming platform's customers would want to find ways to retain their carefully curated profiles and playlists. An enterprising developer created an independent tool for porting over collections to Spotify, but that sparked some questions here among the RAIN News staff about why the streaming platforms hadn't made their own tools. Those businesses must have heard our questions, because today we learned that both Rdio and Spotify have released precisely those services.
As part of its farewell to users, Rdio has made an export tool available so that its customers can download the metadata from their collections and keep that to rebuild in their new streaming platform of choice. Spotify also unveiled an importer similar to the Rdio2Spotify widget that will download an entire Rdio collection into a .zip file that can be uploaded into Spotify's importer.
So far it seems that even though Pandora is taking over the bankrupt company's assets, Spotify's existing on-demand features are making it a more likely choice for those displaced Rdio customers.