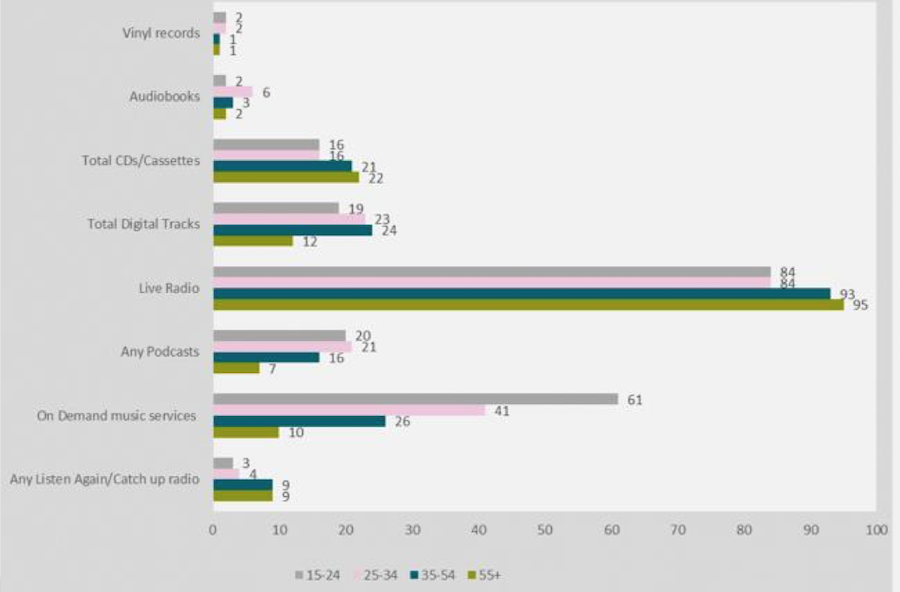 The RAJAR Midas survey has been released for spring 2019, sharing insights into the UK's consumption of internet-delivered audio. The results showed a wide disparity in audio habits based on age, with the younger generations largely driving the growth in on-demand music and podcasts.
Live radio tied with television for the largest weekly reach among UK adults, both at 91%. They were followed by total online video and audio clips with 35% reach, then on-demand music services at 28% reach. Podcasts secured a weekly reach of 14%. A breakdown by age showed that the dominance of radio is being driven by older listeners, while the younger generations are favoring on-demand music and, to a lesser degree, podcasts. Live radio had 95% weekly reach for ages 55+ and 93% for ages 35-54, compared with 84% for both the 15-24 and 25-34 brackets. On-demand music platforms had the biggest disparity, with a whopping 61% weekly reach for ages 15-24 compared with just 10% for the 55+ cohort.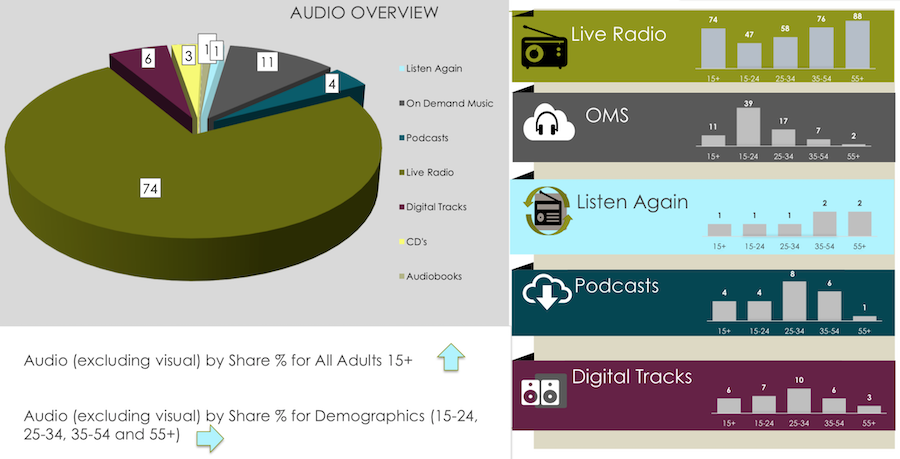 Excluding visual sources, live radio had a 74% share of audio for the UK population. On-demand audio placed second, but a distant second at 11%, followed by digital tracks at 6% and 4% for podcasts. Again, those results contained a wide spread of behaviors by age. The 15-24 age group posted just a 47% share for live radio, compared with 39% for on-demand music. The demographic at 25-34 also favored the digital options, with 17% for on-demand music and leading podcasts with 8%.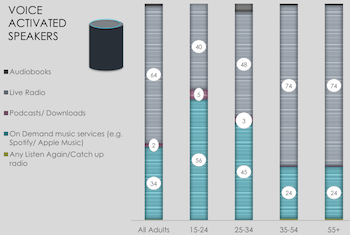 One of the more compelling stat sets examined listening by device. As has become standard, mobile phones are the vast majority of podcast listening, but smart speakers are gradually becoming a factor for this audience. Smartphones are the device of choice for podcasts for 70% of the 15-24 group, but smart speakers emerged with a 7% share too. The same trend appeared for on-demand music, although older listeners were more likely to use smart speakers. For the 15-24 bracket, mobile phones took 66% of the device preference responses and smart speakers had 10%. The metrics followed a perfect inverse relationship across the ages, with the 55+ group reporting 39% for mobile phones at 22% for smart speakers.
Across all UK adults, nearly two-thirds (64%) of all listening on smart speakers is live radio. Podcasts are responsible for just 2% of listening with this new device segment, while on-demand music took the remaining 34%.