Edison Research sent an advisory release comprising a piece of that company's subscription Share of Ear project, an ongoing study of what Americans choose to listen to, and in what measure. It is an authoritative ongoing study of reach across all audio types and categories.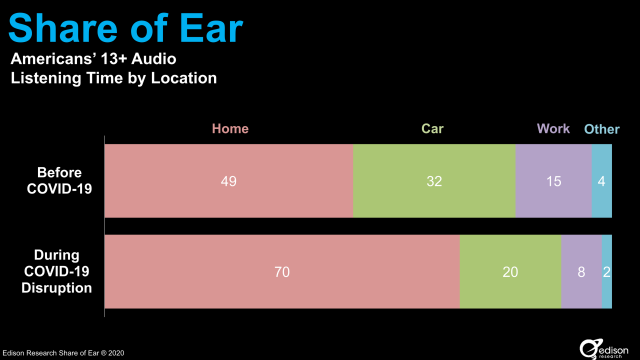 The headline release is that in-home listening has dramatically increased after Q1 — in other words, during the pandemic shelter-at-home period. That seems intuitive, and now there are Edison's numbers to put against the phenomenon: from 49% in-home listening pre-Covid, to 70% during Covid. That's a 445 jump.
In-car listening decreased, unsurprisingly, from 32% to 20%.
Perhaps more remarkably, Edison also released reach numbers for podcast listening and smart-speaker listening.
Podcast listening jumped 26% from Q1 2020 to the date of this update, from 4.3% share to 5.4% share.
Share of smart speaker listening rose 40%, from 3.7% share of ear to 5.3%