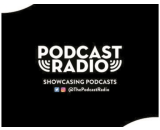 When we last reported on Podcast Radio, the London-based all-podcast DAB+ station, it had broadened its signal to include Manchester. We now learn of a new expansion, bringing the city of Glasgow into range. The license adds 600,000 potential listeners to the station's addressable market.
Podcast Radio launched last November, and was announced at RAIN Summit Europe in London. The station broadcast started in February. Its total signal reach in the UK is 13-million.
CEO Gerry Edwards says: "At a time when other radio stations in the UK are cutting back, Podcast Radio is growing. We're delighted to welcome Scottish listeners – and we have big plans for future expansion in the UK and worldwide."
The broadcast is managed by "podjocks," one of whom is Gene Baxter, who was a morning jock at KROQ in Los Angeles.