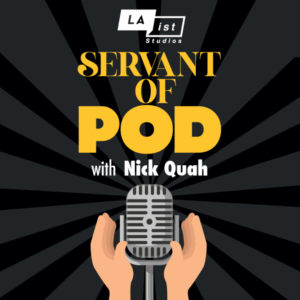 LAist Studios sent us a note announcing a new slate of podcasts. One standout: Servant of Pod with Nick Quah. Quah founded, writes, and edits the well-read  Hot Pod, a weekly long-form bulletin of podcast news and commentary that also operates a more frequently published subscription tier. Here is the show description:
"'Servant of Pod with Nick Quah,' hosted by Nick Quah, is a weekly deep dive into the evolving world of podcasts. The show will help listeners explore a medium that's exploded into the mainstream — even catching the eye and wallets of Hollywood — in recent years. In each episode, Nick discusses industry news and gets into the weeds with established and up-and-coming producers, the executives and operators shaping the new podcast economy, and everyone in between, from composers to editors. Along the way, Nick and his guests will also give listeners recommendations on the shows they should be checking out."
The first episode drops this week (June 17). Here's the trailer, courtesy of Omny Media which is hosting the podcast:
Other shows in today's announced release cluster are California City, California Love, and Hollywood, The Sequel.
LAist Studios is the content website and podcast production arm of public radio station KPCC, the flagship  station of Southern California Public Radio. The station has a reach of 900,ooo listeners.