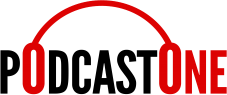 PodcastOne has launched a new mobile app that includes interactive features in social and video alongside its audio programming. Listeners can tune into their shows and engage with them in new ways, such as viewing behind-the-scenes photos, taking polls, and messaging other fans. The app also introduces a virtual currency for its loyalty program.
"The launch of our new PodcastOne mobile app is a milestone for our company, as we are providing a host of features for our listeners to choose from to enhance their listening experience that no other network provides," PodcastOne Founder and Executive Chairman Norman Pattiz said. "Now, with our partners at Mandt VR, we can offer a truly immersive experience that allows the listener to sit in the recording studio, right across the table from the host."
The Mandt VR partnership brings the option for PodcastOne shows to create 360-degree or virtual reality content to support their shows. The PodcastOne studios in Beverly Hills, Burbank, and New York have been equipped with Mandt VR gear for that production. PodcastOne has created more than 1,000 pieces of content in this field, and new video experiences will be added weekly.