Podcast Movement Evolutions, the business-oriented variation of the creator-focused Podcast Movement conferences, was held at the Westgate Conference Center in Las Vegas this week. A somewhat more intimate experience than Podcast Movement, Evolutions offered several knowledge tracks featuring keynotes, interviews, and panel discussions along with numerous networking opportunities during three and a half days.
As if often the case with high-profile events, companies planned announcements to coincide. One of the most significant came from  NPR, which announced that its podcast publishing business was joining the Spotify Podcast Advertising Network (SPAN). NPR told RAIN News that it is the first time NPR has partnered with any outside system to sell NPR audio ad inventory. (More on this in Monday's RAIN.)
We found the experience to offer valuable deep dives into key technology, monetization, content, and business strategy issues that benefit experienced creators.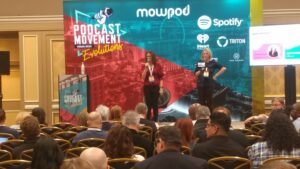 The Westgate layout (familiar to RAIN Summit attendees over the past 15 years) was effectively divided into exhibit halls, large gathering rooms that also staged some content, and smaller pavilion settings for deep dives with plenty of Q&A.
Early-arriving delegates could attend The Ambies on Tuesday evening — that is the podcast awards program operated by The Podcast Academy. The "Podcast of The Year" award went to Chameleon: Wild Boys, produced by Campside Media and Sony Music. (See all the winners HERE.)
Most of the speaking sessions occurred during full-day schedules Wednesday and Thursday, creating a content-rich agenda and forcing attendees to make difficult choices. Helpfully, the learning content was organized in three tracks: Beginner, Industry, and Podcaster. The Podcast segment was further delineated by Create, Grow, and Profit tracks. The upshot was that in most hours, seven 45-minute sessions were presented — keynotes, interviews, and panels. At the center of the intensive learning were two large exhibition spaces for sponsors. The full array of sponsors can be seen HERE.
---