In an announcement timed  to coincide with last week's Podcast Movement Evolutions conference, NPR has joined the Spotify Audience Network (SPAN), adding one of the world's most listened-to catalogs to the streaming giant's podcast monetization platform. (SPAN was started in February, 2021.)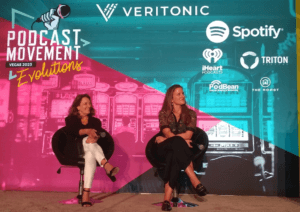 The alliance was discussed in a moderated discussion featuring Gina Garrubbo (President & CEO, National Public Media) and Emma Vaughan (Global Head of Advertising Business Development & Partnerships, Spotify). During that session Gina Garrubbo characterized Spotify as "a fabulous partner" in diversifying NPR's audience.While NPR values the demographics of Spotify's audience, and the additional reach, Spotify seeks to lengthen average listening time on its platform.
Bryan Moffett, COO of National Public Media and frequent RAIN event speaker, told us that this deal represents the first time NPR has partnered with any company to sell its ad inventory — the network had always been "100% direct sold."
Both Garrubbo and Moffett emphasized that the recognizable NPR promotion sound will remain the same, and that the two companies worked closely to make that happen. NPR's podcast ads carry the same tone as its broadcast radio sponsor promotions, though the content is often quite different. It is the tone which carries NPR's brand identity across the moat from broadcast to podcast.
---