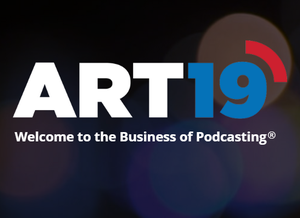 ART19, a San Francisco-based podcast host, distributor, and monetization platform, officially launches today after eight months of technology development and partnership formation. Launch partners include Midroll Media (moving its Earwolf comedy network to ART19), DGital Media (Recode, UFC, Fox Sports Digital, and others), and Wondery (whose founder, Hernan Lopez, is also an ART19 investor).
We spoke with co-founder Sean Carr about the advertising and analytics technology his 11-person team is bringing into the space. Key features are these:
Dynamic ad insertion
Ad targeting
Custom APIs (Application Programming Interfaces) for audience measurement
Dynamic ad insertion has been making inroads into podcasting recently. On ART19, the technology allows podcast producers to consider their entire catalog as addressable inventory. Ad campaigns can be inserted into past episodes, be targeted to listener locations, be flighted to run for a specific period of time, or be limited to a volume of impressions. Sean Carr observed that with shows that have substantial "shelf life," ad injection can refresh inventory that is running "stale ads."
How does ad injection jive with the traditional host-read commercial? Sean Carr confided that in many cases "live" host reads are actually produced separately. "Almost always the hosts are recording them to get the take right. Occasionally they will do a live read inside the show, but that is unusual. The vast majority of producers are actually recording them separately."
"Listening Telemetry" and Opening the Floodgates
In a phone conversation, Sean Carr emphasized the audience measurement piece as the most original technology, and the most meaningful for the advancement of the advertising business which is coalescing around podcasting. He spoke of "listening telemetry," where podcast listening behavior is captured from many distribution points and fed into a clear picture of how a show is being consumed — complete with starts, stops, rewinds, pauses, ad plays, etc..
That sort of granular information is missing from the podcast ecosystem as a whole, where different listening apps feed back different levels of information (or no information) to the producer. It's an issue widely acknowledged to be a genre-wide problem that prevents advertising agencies from recognizing podcasting as an understandable opportunity. That's where ART19's API comes in, offering better measurement to any platform which uses it. Sean Carr called this "API listening" as opposed to traditional "RSS listening" which provides relatively dumb audience analysis.
On the subject of podcasting measurement, Sean Carr expressed an optimistic vision of the future. "More than just possible, it is probable that a paradigm shift will happen, resulting in much more listening data. That will unlock the agency floodgates. Buying agencies are held back by lack of data about listening. Right now we're still selling downloads, which is fine for the DR [Direct Response] buyers. Users put in a code and the advertiser can measure effectiveness that way. Those advertisers are coming back again and again, paying high CPMs, so we know podcasting works."
Carr compares the state of podcasting data to streaming audio. "In order to make podcasting a staple buy in the agency world, it is our belief that we have to deliver data on the level of streaming audio. Streaming audio data is phenomenal; perfect listening telemetry, frequently with registered users and all kinds of demographic data. When you compare that with podcasting today, it's hard for buyers to make the case internally."
Teddy Lynn, a Chief Creative Officer at Ogilvy & Mather and a member of ART19's board, said this in support of Carr's point: "With ART19's technology, we now have measurement, targeting and contextual relevance at scale, and as a result, I would expect more agencies and brands to consider adding the medium to their mix."
---