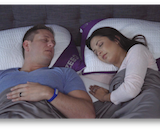 Lots of people like to listen to music while drifting off to sleep, but headphones in bed aren't the most comfortable choice. This situation was the inspiration for a streaming music pillow. Yes, you read that correctly.
Zeeq is a pillow crossed with both a speaker system and a personal health device. The Kickstarter project contains Bluetooth speakers, and with the use of the Zeeq app, sleepers can tune in to Spotify and other music platforms. On the personal health side, the pillow will vibrate when you start to snore. The app tracks sleep data to monitor the quality of your Zzzs, and the system even acts as an alarm clock, determining the ideal time to wake you up.
The crowdfunding campaign has already blasted past its financial goal of $50,000, securing more than $240,000 with three weeks still left in the project. Who knew this was such a hot topic in personal audio?