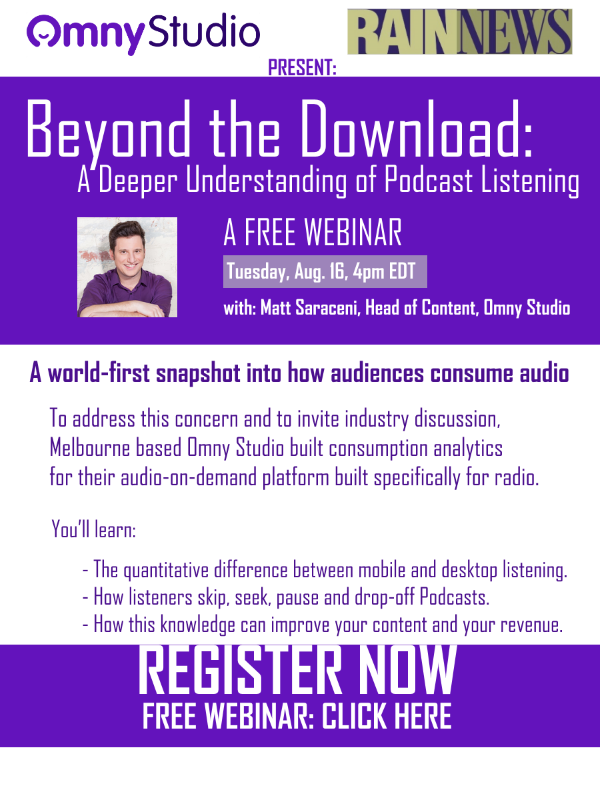 Podcasting is the hot audio category, and podcast measurement is its most important issue. Dominick Milano, Executive VP at Triton Digital, recently noted: "In order to open the revenue channel for all podcasters, regardless of size, impression verification will become necessary."
Australia-based Omny Studio is a podcast creation and measurement firm that provides tools for radio stations to repurpose content for online distribution, and measure its consumption. A webinar on August 16 will present a world-first look at new listening data. The information is highly granular; Omny Studio can verify plays, see what percentage of listeners heard any particular part of a clip, discover average time-spent-listening and mark drop-off points where listeners ended their sessions.
After 90 days of aggregating data, the team from Omny Studio are ready to present their learnings and some world-first numbers around audio consumption.
The webinar will be presented by Matt Saraceni, Head of Content at Omny Studio. "I've been looking at the data coming through from listening on radio stations websites vs listening via a Podcasters mobile app," Saraceni said. "I am excited to present a world-fest snapshot into how audio is being consumed during this webinar."
CLICK HERE to register for this free webinar on Tuesday, August 16, at 4pm EDT.