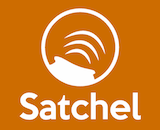 Podcast distributor Satchel announced a collaboration with crowd-funding site Patreon. Satchel's premise is connecting podcasts with local listeners; it first appeared on our radar in February. Now, its podcast player can be embedded with a call to action button that takes listeners to a Patreon page.
Patreon lets creative people collect recurring pledges from their fans. Most give an amount per month or per piece of content. It's a system many podcast producers use, giving donators perks such as early access to new shows or exclusive chances to interact with show hosts.
"We're excited to work with such a notable company that ensures security and integrity in developing a lasting foundation for all creators," Satchel CEO Beau York said.