Magellan AI has released its Q3 Podcast Advertising Benchmark Report, revealing and fascinating as ever. In it, we see key metrics pointing to vigorous growth of podcast ad spending, in volume, dollars, and new advertising brands entering the space.
Podcast ad spending continued to grow every month this quarter. In total Q3 spend increased 22% over Q2 spend and 87% over Q3 '20 spend.
Over 1,700 new brands ran podcast marketing for the first time, with an average spend of $22,000. That's up 22% from the corresponding Q2 budgets.
The average new brand spent $22k in podcast ads, up 10% from Q2
Ad load per episode increased to 5.8% in Q3 from 5.2% in Q2.
Sports podcasts added more new advertisers in Q3 than any other show category.
Investment in podcast advertising grew month over month in Q3: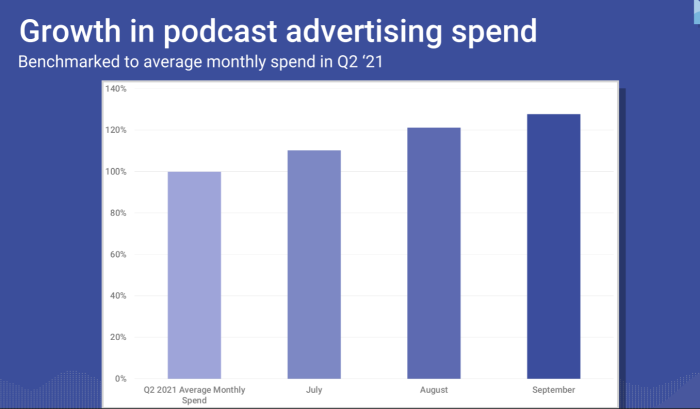 The heaviest advertisers are familiar brands that we see in Magellan's monthly reports. As we noted in our latest coverage, eight brands have appeared in the company's top-15 ranking for six consecutive months, and BetterHelp, the online therapy provider, has been the #1 spender in each of the last six months. So in the top-10 list for Q3 it does not surprise us that BetterHelp is by far the top spender: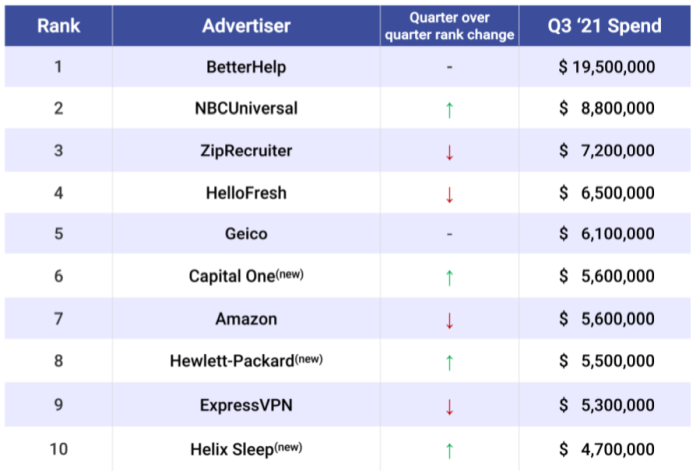 Every one of the brands above is familiar to avid podcast listeners.
In a broader view, which advertising industries are advertising the most in podcasts? As we see below, the four leading categories make a blend of business and consumer advertising: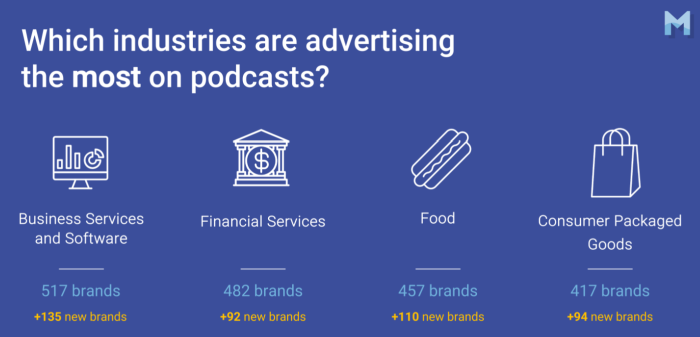 There's much more to this benchmark report, and our coverage will continue. In the meantime, the report is freely available HERE.
.