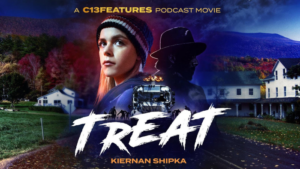 In an interesting and inventive crossover, all of Audacy's Top 40 stations will play a portion of Treat, a "podcast movie" produced by C13Features, on Halloween night. C13Features is a unit within Audacy-owned Cadence13.
This requires a bit of unpacking. "C13" is a specialty mark of Cadence13, and is used by C13Features and C13Originals. The "podcast movie" branding refers to single-episode C13 shows which are the length of a typical movie. There are no visuals; "podcast movies" promises a movie-like immersive experience in audio.
The special is meant as "an homage to the golden age of radio," according to Cadence13 — probably not an oblique sidewise commentary on present-day radio.
Treat stars Kiernan Shipka. Here is the capsule description Cadence13 sent us:
"In Treat, we quickly discover that a perfect town comes with a terrifying price. Kiernan Shipka stars as Allie West, an unpopular teenager who is dealing with issues beyond her years while struggling to fit in with her seemingly perfect small town. But, on one Halloween night, everything changes, and she discovers that her town's idyllic image comes at a deadly cost. As she learns about the mysterious Piper's powerful hold on the town, she, along with her younger brother, realize they are the only ones who can save their community before it's too late. Can Allie West help rescue her family, and their town, and even herself, from its evil past and own demise?"
The trailer is available HERE.
.