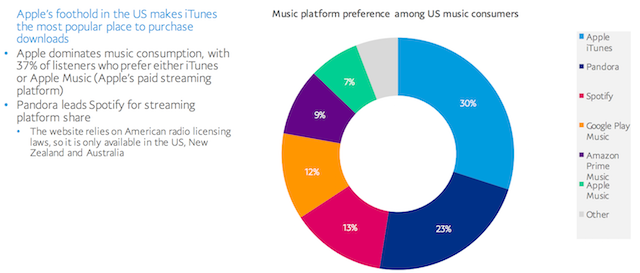 PayPal led a survey about digital media consumers. The global survey covered 10 markets and about 10,000 consumers about their digital media habits. According to the results, 86% of music consumers listen on their smartphones, making it the top hardware choice for listening. Women's mobile listening share was larger than men's, with 90%. PCs were the listening source for just 18% of women and 48% of men.
Downloads still held a strong share, with 70% of older listeners and 60% of millennials taking that route. Paid streaming had a 51% share among older listeners and 63% for millennials.
Platform preference favored iTunes at 30% and Apple Music had 7%. Pandora had the largest streaming share with 23%. Its strong performance is all the more noteworthy because Pandora only operates in the U.S., New Zealand, and Australia. Spotify's share was 13%, Google Play Music was 12% and Amazon Prime Music had 9%.