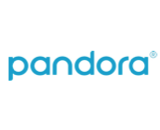 Pandora announced today that it has updated its Artist Marketing Platform (AMP) with new features, and opened it up to all artists whose music plays in Pandora's catalog.
The free platform now includes enhanced analytics powered by Next Big Sound, which the online audio company purchased last spring. It has also added new options for direct communication with fans. Artists can create audio messages to share to targeted audience and to share to both Pandora and social networks. The updates also include featured tracks, where the performer can widely promote a song and get real-time analytics, and integration with Ticketfly, another Pandora purchase from last year.
The wide release of AMP, and the continued build-out of its feature set, aligns with founder and now-CEO Tim Westergren's stated mission of Pandora as a success-building machine for musicians, in addition to a music-discovery engine for listeners. In his words, the vision of Pandora is "to harness technology to make it easier for artists to make a living."
Chief Operating Officer Sara Clemens refers to "the Pandora Effect," in which the Music Genome (Pandora's underlying music selection technology) purportedly can introduce a song to an average 45 new people per spin for artists who are not well-known. Her point is that the propagation of fandom is most dramatic for the least known musicians, whose music gets packed into stations that also play hits, because of its musical attributes as recognized by the Genome.
"Our mission has always been to offer every artist the opportunity to find their audience on Pandora," Clemens said. "AMP eliminates guesswork, helps break new artists, surfaces new music from established artists and creates new revenue streams."
Pandora's pitch to artists for some time has been about providing value and data. AMP debuted in 2014, and the company has been adding features ever since. The Artist Audio Messaging has been of particular note, with several developments that had been rolling out gradually now becoming available to any artists.