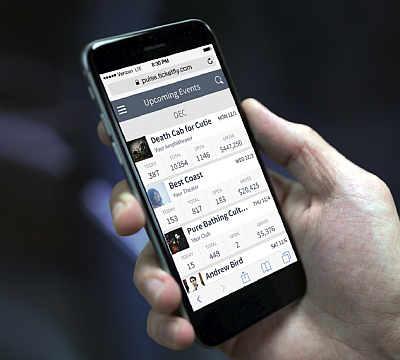 Pandora has acquired Ticketfly, a company focused on live events and show ticketing. The deal promises to offer integration of event discovery into Pandora's existing online radio capabilities. Ticketfly generated more than $500 million in transaction volume from its 16 million tickets sold in 2014. It also powers more than 600 websites for its clients. The purchase is valued at about $450 million.
"Over the past 10 years, we have amassed the largest, most engaged audience in streaming music history," Pandora CEO Brian McAndrews said. "With Ticketfly, we will thrill music lovers and lift ticket sales for artists as the most effective marketplace for connecting music makers and fans."
On the back end, it also means combined data and analysis power of members' listening and purchasing choices. Pandora already offers its Artist Marketing Platform to performers, which includes some listener data, and it bought Next Big Sound for further statistical insight into what happens on its platform. The combination with Ticketfly's analytics could mean better tools for artists to promote their shows and build a dedicated fan base within Pandora's ecosystem.
Live events account for a huge percentage of music revenue, securing 35% of an average individual's annual spend, according to Nielsen. A more recent study by MusicWatch and Eventbrite also found that streaming can support concert sales and further music discovery. If Pandora can turn Ticketfly into a successful feature of its service, there's a good chance that the company will be seeing a positive impact on its bottom line in the long run.