Now that we've set off on a fresh new year, we're getting some interesting and insightful perspectives on everything that transpired in the music world during 2014. Data scientists have had the time to collect final numbers and finish analyses. On Jan. 2, we got a preliminary look at the work of Nielsen SoundScan team, which showed a general trend of increased streaming and decreased sales. Today, we have the 2014 Nielsen Music U.S. Report to expand on those first finds.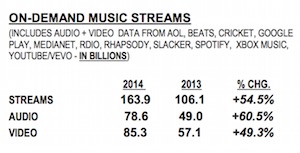 As we learned in the initial report, the amount of on-demand music the U.S. listened to in 2014 increased 54.5% from the previous year, clocking in just under 164 billion streams. The full report gives us more context on the sources and formats of those billions of streams. The data came from both audio and video sources at AOL, Beats, Cricket, Google Play, Medianet, Rdio, Rhapsody, Slacker, Spotify, Xbox Music, and YouTube/Vevo.
Two takeaways from that chart. First, that list of sources is missing services that focus heavily on lean-back listening, such as Pandora and iHeartRadio. That online radio field provides a huge chunk of streaming listening, so as big as that 164 billion number seems, the total for all streaming and online music is significantly larger.
Second, the report supplied the different numbers for audio and video music streams. Audio increased 60.5% to 78.6 billion songs, but video took the bigger piece of the pie, growing 49.3% to 85.3 billion streams. Listeners seem to still be placing a strong emphasis on being viewers with their music. In fact, a MusicWatch survey from December found that video services were the top driver of music discovery, especially among the coveted 13- to 24-year-old age group.

Skimming the charts for sales, we found a notable trend downward. Most metrics – overall album consumption (which includes track and streaming equivalents), CD sales, digital album sales, and digital track sales – posted a drop from their 2013 numbers. Many of the declines were not small. Total album sales across all formats, including digital, fell 11.2 percent to 257 million copies. CD sales alone dropped 14.9%. Physical albums sold at chain stores came down 20.6%, and mass merchant sales dropped 19.3%. The places where sales increased were for what Nielsen dubbed "non-traditional" outlets, encompassing sales at music venues and direct-to-consumer methods. We've covered the alternative business models explored by Bandcamp, Patreon, and Kickstarter; all performed well in 2014. The increase Nielsen found here was small, just 5.2%, but we will be watching these non-traditional approaches with great curiosity in 2015.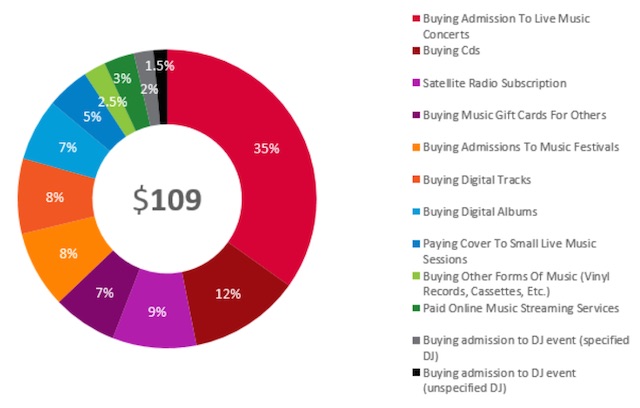 Overall, that collection of sales data looks grim, but another of Nielsen's charts has a more optimistic outlook. It's the pie chart for expenditures on music. The average consumer spends $109 annually on music-related purchases. Live experiences are the biggest expense: live concerts secured 35%, while festival admission generated 8% and various DJed events combined for 3.5%. CD purchases were just 12% of the total, and other physical formats, like the resurging vinyl, were only 2.5%. But a respectable chunk of that average annual spend goes to the online and digital world. Satellite radio secured 9% and paid streaming services took 3%. Digital tracks amassed 8% while albums received 7%.
The naysayers have lamented that streaming is hurting, even killing, the music industry. While Nielsen's data, with so many declining figures, might seem like a negative, this information confirms that people do still love and listen to music. In fact, at 93% of the U.S. population, almost everyone does. Nielsen found that 67% of music consumers will listen online in an average week; 41% of listeners sought music on their phones in that timeframe. And Nielsen's not the only source where streaming is the source of growth. In the first half of 2014, RIAA data found that the losses from dwindling album sales were largely made up by ballooning revenue from streaming, so top-line revenue for the industry showed just a slight dip.
What we saw in 2014 wasn't the death of an industry; it was an ongoing transformation. A transformation to digital and streaming, to listening on smartphones rather than on CD players, to connecting with our favorite musicians in new ways.