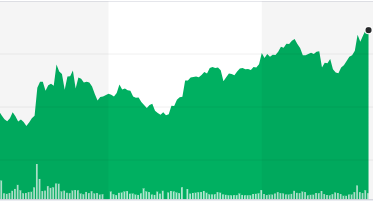 Pandora stock is benefitting today from two encouraging pieces of Wall Street news. As of this post, P stock is up three percent, to its highest level of July.
Jana Partners has reportedly made an investment in Pandora, for an amount not publicly disclosed. Investor trades are partially crediting the bullish investment with today's stock movement.
Also, a SunTrust analyst named Matthew Thornton sent a positive note to clients after meeting with new Pandora CEO Naveed Chopra. According to Thornton, Chopra is maintaining Pandora Premium, the relatively new on-demand service, and dropping the company's resourcing of that service to maintenance level. That usually means minimal (or zero) feature development, but keeping the product running with some amount of customer service.
De-emphasizing Pandora Premium is not a total surprise, as Chopra hinted of new priorities when he took over from Founder and ex-CEO Tim Westergren. "We believe that the primary listening experience is passive, for most people," Chopra said then, "meaning 90 percent of the time you just want to listen to music you like," Chopra told the gathered investors. "It's not about picking songs you like and building playlists."
According to a MarketWatch report, Chopra also told Thornton the company plans to focus on non-interactive radio monetization, re-allocating dollars previously directed to Pandora Premium to sales staff and ad technology.
All this is a doubling down on priorities hinted at when Sirius XM took a 19% bite of Pandora in June. The $480-million investment, and the resulting three board seats for Sirius XM, practically mandates that Pandora switch lanes, getting back to its pre-Premium roots as the market leading ad-supported streaming radio service.
SunTrust slapped a Buy rating on P stock and issued a price target of $10.50. As of this post: $9.73.