Pandora has added to the smart speaker research hitting the industry this year with the first release of information from a commissioned survey by Edison Research examining how consumers use Amazon Alexa and Google Home devices. The survey was conducted with interesting methodology, essentially reinventing the listening diary concept. More on that below.
Pandora might have been motivated to take this deep dive by an eye-popping metric from its own data: The company has seen a 282% increase in smart-speaker listening to Pandora radio in one year.
In a post on its advertiser-facing site, Pandora delivers a history lesson of voice control, before getting to the juicy numbers. "Voice Is the New Touch," the article asserts.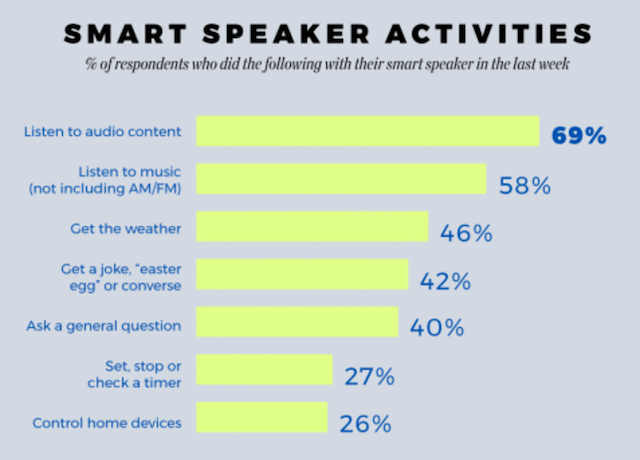 The new survey is based on interviews with 444 U.S. adults who have owned a voice-activated smart speaker for at least one month. Among those device owners, 69% are regularly tuning in to any form of audio content each week. Music is a strong mover too, with 58% tuning in for an average of 4 hours, 34 minutes each week. The music segment does not include AM/FM listening. Seven out of 10 respondents said their consumption of audio has increased since buying their smart speaker, and 65% said the same about music consumption.
How were these numbers gathered? Partially by gathering the interaction records that are recorded in the Alexa and Google Home apps. Both companies provide control and assistance apps linked to the smart devices. Owners use the apps to make settings like auto-connection to favored music services and setting preferred news sources. The apps document every single interaction with the smart speakers, from getting the weather to playing Jeopardy, from listening to Pandora to creating shopping lists.
In effect, Edison Research reinvented the legacy listening diary for 2017, using smart speaker apps as data census points connected to the home devices. The devices, connected to Amazon and Google servers, act as in-home servers, delivering 100% precision.
The audience for smart speakers is making the transition to ownership at a rapid pace. One in three of the listeners already own two or more voice-activated devices. In an interesting reversal of the early-adopter picture, 40% of the surveyed device owners are between the ages of 35-54. The age 18-34 bracket held a 35% share of the audience.
The survey results are based on seven days of full interaction history the participants had with their devices. The analysis includes 14,700 interactions coded for the type of interaction, duration, and time of day. Smart speaker owners from Pandora's Soundboard panel were also surveyed.