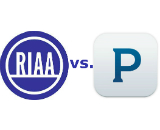 As rumored, Pandora has settled with the RIAA for use of pre-1972 music through this year and next. Settlement cost is $90-million. This development comes a few months after Sirius XM, likewise a defendant in cases focusing on performance use of oldies, settled with major labels and other litigants through 2017, at a coast of $210-million.
The lawsuits and settlements are the result of vigorous activist litigation by music rights-holders to repair a flaw in U.S. federal copyright law, which fails to protect records produced before February 15, 1972 — the date when the U.S. Copyright Act became law. Both Pandora and Sirius have expressed support for a federalized solution. With a federal change not appearing on the horizon, stopgap settlements appear to stanch the flow of money and effort in state courtrooms where, in California, New York, and other states, the cases have been argued. The settlement might also give Pandora a runway for negotiating a longer-term licensing deal for oldies, assuming Congress will not act.
Whether Pandora and the RIAA have achieved a rough market value with the settlement price tag depends on how many affected recordings would be played during the settlement period, a calculated estimate that presumably entered settlement negotiation. One unknown variable is the statutory licensing rate, set by the U.S. Copyright Royalty Board, which will take effect on January 1.
RIAA head Cary Sherman called the settlement "a significant milestone and a big win for the music community." Pandora CEO Brian McAndrews said, "Pandora is excited to have found resolution with these record labels […] We pursued this settlement in order to move the conversation forward and continue to foster a better, collaborative relationship with the labels."
Pandora has paid over $1.5-billion of royalties into the music industry during its years of operation. By some calculations, Pandora contributes over half of all royalties collected and distributed by SoundExchange on behalf of record labels.