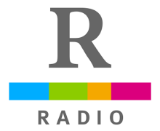 Rivet Radio, which has been called "The Best In Bite-Sized News," is adding bigger meals to its catalog, and has freshened its iOS app with a new content discovery feature.
The app's usability change is a "Follow" feature, which invites users to customize the audio flow by teaching Rivet more about what they like. Touching a FOLLOW icon during any piece of content offers choices about what to follow. Those choices can be the show name, the host, the producer, or the topic. In our testing, we encountered up to several FOLLOW choices every time we exercised the feature. We could select one or more of the options.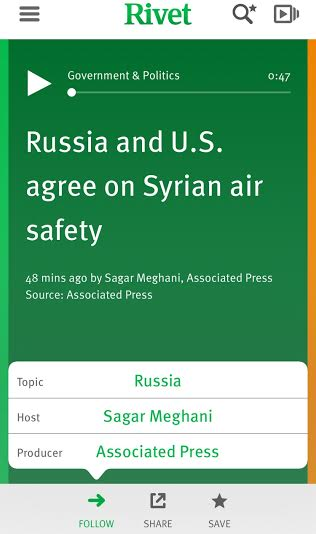 The FOLLOW feature is cleanly presented, easy to understand, and worked without glitches for us. In addition to this granular personalization of Rivet's audio stream, the app maintains the broader topic selections (Arts, Politics, Sports, etc.) that existed before.
The addition of podcasts represents a somewhat new direction for Rivet Radio, which has specialized in short segments culled from longer productions. The company is going for the hits in a first wave of 200 added shows — This American Life, Wait Wait Don't Tell Me, TED Radio Hour, Radiolab (all public radio programs that populate the iTunes hit list) are mentioned in today's announcement. All 200 shows should be loaded in by end of this month. We found Wait Wait Don't Tell Me, but not Radiolab.
"The new Follow feature, coupled with our addition of premiere podcasts, creates an even richer and more tailored listening experience for all users," said Judy MacLeod, VP of Podcasts at Rivet Radio. "We recognize the remarkable demand for a thriving form of audio storytelling like podcasts."