Pandora, which has defined streaming music for millions of consumers since 2008, today formally announces the start of Pandora Premium, putting the market-leading internet radio company in direct competition with Spotify, Apple Music, iHeartRadio, and other streaming companies that offer cloud-based music subscriptions.
For Pandora, the launch of Premium represents a new era. Although the traditional Pandora radio product has seen extensions and acquired add-ons over the years, the Premium service reshapes the company, fundamentally changes its relationship with music suppliers, opens the door to long-awaited geographic expansion, and challenges the business to convert existing free customers to paying customers. All against a backdrop of increasing investor and board restlessness and tenacious takeover rumors.
Who and When
Pandora Premium launches for real on Wednesday, when "select listeners" will be invited to upgrade. In accustomed Pandora roll-out fashion, the invitation footprint will spread out gradually. Pandora says all users will get access "in coming weeks."
The price is industry-standard $9.99, double the price of Pandora Plus, a fun and useful extension of basic Pandora radio that stakes a semi-interactive middle ground between free non-interactive listening and fully interactive music access. Pandora recently announced that Plus had 4.4-million subscribers. The company disclosed its goal for Premium: 6- to 9-million subscribers in 2017.
Pandora Plus users will get six months of Premium free. Other users will be invited to trial period of differing lengths. Premium goes into iOS and Android immediately, as well as corresponding car systems, CarPlay and Android Auto. Pandora Premium on the computer desktop is delayed indefinitely. Most of Pandora use is mobile.
Product Details and Values
As RAIN News revealed in our first look at Pandora Premium in a December media event, the new service is a fully interactive on-demand music platform that hews to the known feature template. Users have random access to a library of "tens of millions" of tracks, can playlist them, and download them for offline listening.
Pandora is emphasizing quality distinctions rather than introducing new feature inventions that adopters of streaming services wouldn't recognize. Those quality distinctions can be summarized as: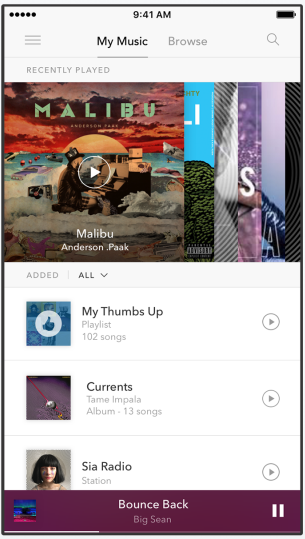 "The existing services are not working," Founder/CEO Tim Westergren said in December. The solution is meant to give users an intuitive app interface which makes it easy to enjoy the power and pleasure of a celestial jukebox. The app design shows the influence of Rdio, the beloved but bankrupt service which Pandora salvaged in November, 2015, and whose aesthetic heritage is apparent in Premium's screens.
The ease of use which Pandora is promoting intends to solve the paralysis of choice some users face when first entering a vast music library at their disposal. A Browse screen is stocked with personalized suggestions. Existing users will see their music preferences reflected in playlists furnished by the service, and in track suggestions offered when you're building a playlist. Even in the search function, which is typically the most objective feature of a music platform, Pandora purportedly tilts results to individual preferences — "Search that knows you."
In all this, it is apparent that Pandora has crafted Premium with the existing Pandora user in mind. That conforms with how the company prepared investors for today's launch, and how it has defined the business rationale. The idea is to leverage a built-in consumer acquisition advantage — namely, 100-million existing listeners (a per-quarter figure) who already use and love the Pandora radio service — by converting them at minimal expense. That strategy has been asserted as a key competitive advantage over services.
Servicing that strategy is the platform's immense technology and data chops, which Pandora is promising will deliver the same sort of "perfect next song" experience which has defined the radio service and its marketing. Music intelligence, user customization, and target song recommendations don't belong only to Pandora, but Pandora's monumental trove of user behavior (thumbs up, thumbs down, likes, and station creations) is probably second to none. Beyond user cues, which might be considered table stakes of audience understanding in a music service, there is the Music Genome, the foundational music intelligence layer which underpins the Pandora experience and brand reputation.
The Bigger Picture
The cruciality of Pandora Premium cannot be overstated. This launch is a substantial bet for the company, if a well-considered and opportunistic one.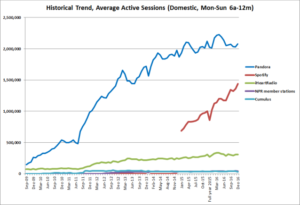 Premium comes to a crowded market in which Pandora's founding business model had leveled in some ways. Listenership has been steady but without growth for about 18 months, according the Webcast Metrics Top 20 Ranker of streaming audio providers released each month. The company has announced greater monetization efficiency each quarter, measured by revenue per thousand listening hours. The top line is profitable; the bottom line is not.
Running an on-demand service involves meaningful restructuring of the balance sheet, business relationships, brand reputation, user propositions, marketing, and Wall Street storytelling. The path to growth is more about increased revenue than more listeners, we've come to understand in the quarterly calls — conversion of non-paying users to paying users.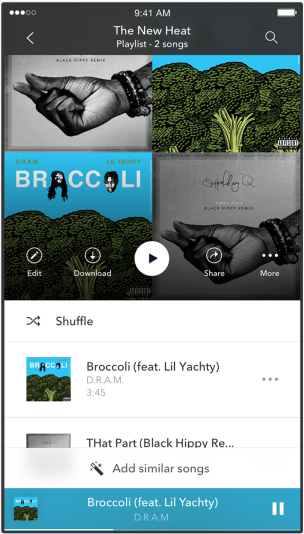 Meanwhile, the subscription music service marketplace is bursting with big-brand consumer options: Spotify Premium, iHeartRadio All Access, Amazon Prime Music, Apple Music, Google Play Music, Napster, Soundcloud, Deezer, Slacker, and many specialty services like 8tracks and Digitally Imported. It's understandable if Pandora is focused more on converting existing free users than stealing subscribers from other subscription plans. (One question is how many of Pandora's radio listeners are already invested in an on-demand service.)
Meanwhile, the company remains a rumor target among merger-and-acquisition speculators, with much focus on Liberty Media-owned Sirius XM as a potential parent company. recent mongering has seen Liberty and Sirius seeming to encourage and discourage gossip. One theme in that line of thought is that Pandora possibly fills a hole for Sirius as a pure internet radio company, but not so much as with a giant on-demand service attached.
The Upshot
On-demand music is a hard business with a tough cost structure, daunting competition, and not a single bottom-line success story at scale.
Pandora Premium's fortune will hinge on product experience. A delightful experience that moves users easily past the paralysis phase will be a winner to some extent. The company seems to be placing its marketing effort, and product conception, along this line. It will also be very interesting to see how and when Pandora expands geographically beyond its current U.S./Australia/New Zealand footprint to European, South American, and Asian countries whose populations know of the brand but have never gotten their hands on it.
Interesting times, and time will tell.
---