The Infinite Dial 2017 was released yesterday, and RAIN News covered many of the details in near-realtime. Here, some of the highlights — potential industry-shifting survey results which we think will be cited throughout 2017 by online audio stakeholders and industry pundits.
Podcast Lovers Listen Deep
Edison Research and Triton Digital performed a favor to the broad podcast creation and distribution industry, by surveying listeners about their show completion rates. In other words, do people listen to the whole podcast? How much of it?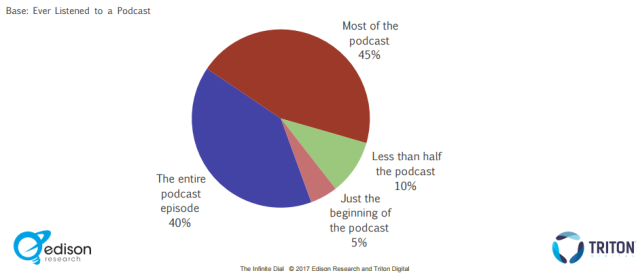 The result has podcast stakeholders leaping up from their chairs:
In the entire study population of people who have ever listened to a podcast, 40% claim to listen all the way through, and an additional 45% said "most of the podcast."
The result is remarkable, and based on what we've heard in the past 24 hours, unexpected. "85% is higher than many of us would have predicted," Glenn Rubenstein, Founder of ADOPTER Media told us a few hours after The Infinite Dial was released. "I think most of us would have been thrilled with 75%!"
It means that podcast networks and ad agencies can now cite a gold-plated Infinite Dial metric that 85% of the podcast audience hears pre-roll and mid-roll ads … and about half of them hear the post-roll too.
During 2017 we will hear this statistic mentioned, cited, promoted, used as a basis for revenue projections, used to negotiate CPM rates, bragged about, commented on, and celebrated by podcasting stakeholders. It is possibly the biggest breakthrough result of Infinite Dial 2017.
Reach and Time Spent with Online Radio
While the audience reach for online radio has grown steadily for several years in the Infinite Dial survey trending, time spent listening (TSL) went down a little last year, compared to the year before. That got our attention at the time, and we wondered about the 2017 result for that metric.
The result was eye-opening.
Average weekly time spent listening to online radio rose from 12:08 to 14:39, a 21% growth year-over-year.
So this year, the audience seems to be growing (53% weekly reach; 83% in the 12-24 group), and also settling in to listen longer.

finite dial
Spotify on the Move
In monthly listening Spotify raised its reach from 13% in 2016 to 18% in 2017. That movement stood against flat reach at Pandora, similar to the trend lines we see in Triton digital's monthly Webcast Metrics Top 20 Ranker.
iHeartRadio also grew, by the way, from 14% to 19% year-over-year.
When asked which service they use most often, 21% of survey respondents said Spotify, compared to 10% a year ago, more than doubling its reach through that survey lens.
YouTube's 91% Reach
YouTube, once a 90-pound gorilla that nobody saw in the room, has become well-recognized as the world's most populated and trafficked music delivery platform. Even so, Infinite Dial 2017 put a startling number against that fact: a 91% reach.
That number has to be framed:
It is 91% of the 12-24 group, YouTube's most avid users
It is "anytime" reach, not weekly or monthly reach
But remove those two filters, and you get an impressive weekly reach of 43% for the entire 12+ population. Monthly reach (57%) is over half the population relying on YouTube for music.