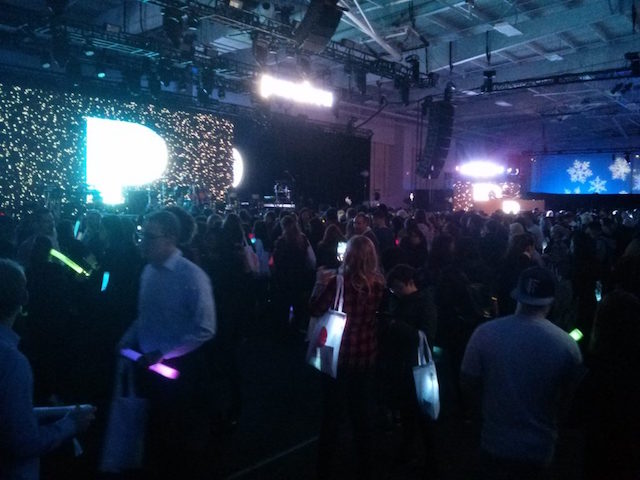 ---
Last night at Pier 36, a spacious indoor venue near the bottom tip of Manhattan, Pandora hosted hordes of music lovers for Pandora Holiday Live, a concert featuring The 1975, Bishop Briggs, and Bastille. One hour before the doors opened for the teeming crowd which had reportedly been lining up for two days, a small group of media and finance professionals were given a preview of Pandora Premium, the on-demand service which the company has been promising since its acquisition of Rdio last November.
The event was a preview, not a launch. The service will roll out to users during Q1, and RAIN News will be part of a media group receiving test accounts in January. This write-up is based on a quick preview during which service snapshots were displayed on monitors. There is no beta testing outside of Pandora right now, and we do not have hands-on access to the service yet.
Founder and current CEO Tim Westergren started the presentation before handing off the preview to the lead product developers, Chris Phillips (Chief Product Officer) and Chris Becherer (VP of product and formerly head of product at Rdio).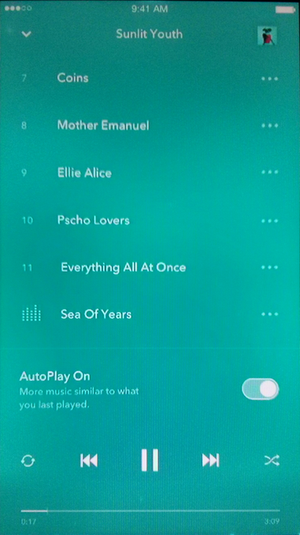 "The existing services are not working," Westergren started off, referring to on-demand subscription platforms such as Spotify and Apple Music (though he didn't mention any specific brands). Pandora's solution is contained in a tagline: "Music Finds You." The idea is that Pandora knows its users very well, and can combine pushed recommendations with the user's desire to search for music.
Westergren used the words "elegant" and "effortless," and more than once said that the product development goal is to make a "drop-dead easy" service.
It certainly is a good-looking one. The Rdio legacy is apparent in the simple and, yes, elegant design. (Though Rdio did not last in the competitive music service market, the app was beloved by loyal users, no least for its aesthetic design.)
From a usability perspective, Pandora Premium's leading trait is helpfulness. If users of other services suffer from the paralysis of choice when faced with vast libraries of recorded music, Pandora Premium users will find the service making suggestions right from the start.
One interesting feature solves "orphan playlists" — user collections that start ambitiously but get stalled after two or three songs. Rdio's research indicated this 75% of user playlists were orphaned. Pandora Premium will fill those out with suggested tracks based on the two or three already picked, plus what Pandora knows about the user's taste.
For active users of Pandora's radio service, the personalized curation in Premium should work well. The colossal data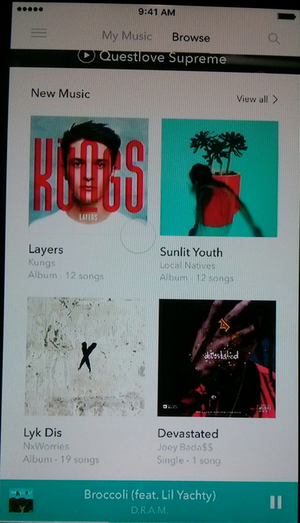 trove Pandora owns, based on user behavior ("thumbing" songs up and down, plus skips) is a gigantic advantage which benefits long-time users the most. In fact, Westergren encouraged event attendees to use Pandora actively between now and the service launch, the better to test how Premium works for Pandora's most eager users.
Pandora Premium merges Rdio design sensibility with Pandora's radio-like impetus to keep the music going. One example: If you call up an album and listen to it, you can choose to keep the stream going with related (and personalized) music after the last track. All playlists of any length can be fleshed out automatically by Pandora's music intelligence.
Talking with representatives of investment houses after the event, the main question we heard was whether Pandora will succeed in luring existing users into Premium. (There was quite a lot of buzz about a prospective acquisition as well, with Sirius XM being the main speculative candidate.) Pandora's discussion of Premium with investors during this year's quarterly earnings calls has prioritized converting existing users, rather than attracting Pandora newbies already using other on-demand services.
The question remains as unanswered until next year's 2017 earnings call at the soonest. What does seem clear now is that Pandora will release a beautifully designed interface and a smooth entry to the on-demand experience for people who are delighted with the established online radio product.