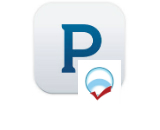 Next week Pandora will reportedly add a new audience segment to its targeted ad products: political preference. The market-leading Internet radio company introduced audience segmenting in November, with a release to advertisers of a single audience group — Hispanic listeners. At the time, Pandora promised new segments to come, and next week's release is timed to take advantage of political advertising in 2014, a Congressional midterm election year.
As with the Hispanic audience segmenting, Pandora relies on zip codes supplied in the user-registration process. The company then identifies county and neighborhood voting patterns, paired with music choices in the service which Pandora has determined are indicative of partisan preference. For example, country music listening might skew toward Republican voting, and when matched with a historically republican-leaning zip code, Pandora can predict a political preference to advertisers.
As with any audience segmenting that is cobbled together from registration information and musical attributes, a good deal of inference goes into this. the true test will be campaign performance.
Nearly at the same time as Pandora's November ad-targeting product, music solution provider The Echo Nest introduced a new targeting product of its own called Music Audience Understanding. That platform does a deeper dive into music intelligence for its inferences, and launched with more segments and a partnership with audio ad network TargetSpot.