Serial entrepreneur Michael Robertston has launched OnRad.io, consolidating two previous services (Radio Search Engine and 6 Seconds) into one platform that can locate songs playing on a global array of 100,000 radio stations (terrestrial and Internet brands).
With a new interface and new features, OnRad.io advances the technology of its predecessor, and emphasized it uniqueness. OnRad.io turns linear radio streams into a platform of searchable, snackable, and shareable music tracks. the company mission is to turn the most non-interactive audio sources into a highly interactive platform that emulates on-demand services like Rhapsody and Apple Music.
Searching for Radio Songs
The user experience starts with a search. OnRad.io accepts artist, song, and genre searches. The result is a song list representing the track (or tracks) playing on radio at that moment. If you click quickly, you are likely to hear the entire song from the start. In our informal testing experience, the OnRad.io technology which anticipates queued-up songs is faster now than when we last tried Radio Search Engine. In a couple of cases, we caught a DJ introduction of the song we selected.
Songs can be shared in a fashion: sending the URL of a song-playing page in the web app delivers the search result to anyone clicking that link. No registration is required to use the link. whether the recipient hears the song depends on whether it is being played somewhere in radio at that moment.
The app version of OnRad.io allows saving a favorite list of songs, and of stations. In that way, the app serves as both an interactive music service and a station discovery platform. During a couple of hours with OnRad.io we saved as many stations as songs. We found station discovery especially addictive when searching on a music genre. Prowling for Blues, we randomly selected a track by Leo Boni, and stayed with the pureplay station BluesItalia (www.laut.fm).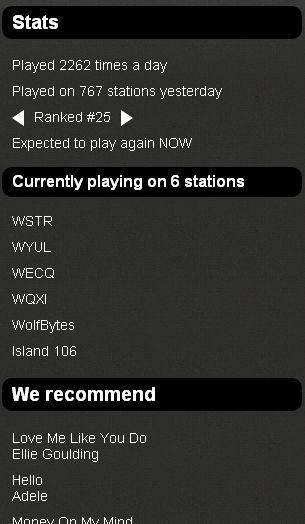 When a song is saved in OnRad.io, it can be played at any time, just as in Rhapsody or Spotify Premium — almost. OnRad.io is at the mercy of what its global aggregate of radio stations is playing at any moment. On-demand play of a song works best with hits that are always playing somewhere. If OnRad.io cannot find a song playing on radio, it will offer to notify you when it's on somewhere.
Song search results display a package of popularity statistics and a radio ranking for that song. There is also a list of recommended songs based on the search.
Crossing Boundaries
OnRad.io is unique, daring, and potentially disruptive. In an online music industry that is meticulously divided into interactive and non-interactive services, each encased with a separate set of music licensing regulations and usability expectations, OnRad.io vaults over the dividing lines and pulls the content pieces of linear radio (songs) onto an on-demand platform where they can be randomly accessed.
The streams are pulled from original servers, so measurement and royalty payments proceed exactly as if the user were listening on a radio station's website. All this might seem weird to traditional broadcasters, but there isn't much reason to object — OnRad.io functions as a station discovery engine that keys into what a user wants to hear at that moment … the golden programming mantra of every music director. When a station is saved and played on OnRad.io, it conveys the same benefit as iHeartRadio and TuneIn.
The user experience, though, it more precise. We compared searching for Adele's current hit Hello on OnRad.io and on iHeartRadio. OnRad.io delivered an instant list of stations playing the song. We could listen over and over by repeating the search, or stick with a station if we liked the next song. On iHeartRadio, we were given a new non-interactive station based on Adele's song — but the first track played was her earlier hit, Rolling in the Deep. In an increasingly on-demand world, that is an inherently disappointing experience.
There, in a nutshell, is the difference between interactive and non-interactive. If OnRad.io were to scale up with millions of users, its disruptive nature might not impact radio as much as music services.
In fact, helping radio is part of Michael Robertson's stated mission to apply search to radio. "Radio is losing out on 100 million daily
unique users because their content is hidden to search," Robertson told RAIN News. "Can you imagine a web site not being indexed by Google? That's the state of affairs with every radio stream!"
On the Edge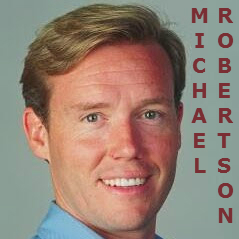 Michael Robertson has built an entrepreneurial career playing on the edges of the norm in audio and other fields. He was the founder and CEO of the original MP3.com, which enjoyed skyrocketing share value after an IPO, then fell subject to a cascade of lawsuits. The legal trouble was around a feature called Beam-It — one of the first online music lockers which allowed users to upload CDs after demonstrating ownership of the albums. the Beam-It concept presaged what is now a common cloud-storage function deployed by Google, Apple, and Amazon.
Later, Robertson sold MP3.com to Vivendi Universal, which later handed it off to CNET. Michael Robertson returned to the online locker concept with a later company, MP3tunes.com, with a feature called Oboe. More lawsuits followed, with a March, 2014 judgment against Robertson to the reported tune of $41-million. That case is being appealed.
Robertson also operates DAR.fm, an online DVR for radio shows.