Serial entrepreneur Michael Robertson conceives of his latest project, Radio Search Engine, as a Google for real-time music searches on radio. RAIN tested the new site, still in beta development mode, and spoke with Robertson about what it is, how it works, and where it's going.
Most of the development of Radio Search Engine appears to be technical, not cosmetic. The single-page website is unbranded, with rudimentary design. The site's main assets are under the hood.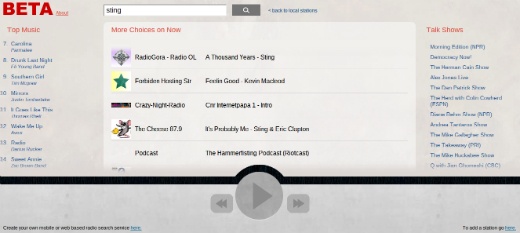 The basic experience of Radio Search Engine is this: you type in a song, artist, show title, or music genre. The site displays a list of radio stations which, at that moment, are playing what you asked for. Click on one to hear it. Unlike a subscription music service like Spotify or Rhapsody, where you ask for a song and get a static file of the song that you can play, in Radio Search Engine you get a stream-in-progress from a webcast.
Does it work? Yes, and the site is great fun to play with. Its success as a discovery tool is based on an immense real-time database of songs and stations.
"It's a tremendously big undertaking," Robertson told RAIN. "Indexing the entire world of radio is not a trivial thing. The last time I checked, we had 200-million records of songs. We store what radio stations play over time, so we have a historical record. We use that record. If you search for a song that isn't playing anywhere right now, you get a list of stations that recently played it, or that might play it in the future."
We found that to be true, and crucial to the core experience of radio station discovery. During testing, we found several stations (FM and pureplay) that were new to us, and that we wanted to keep track of. Robertson himself told us that he keeps a Post-it note on his desk with a list of stations that he jotted down. He noted that a bookmarking feature might be in development.
The site encourages browsing as much as searching. If you ask for an artist, not a song, the search results contain a good deal of variety, and we found ourselves station-hopping. Each time you click a result, the entire result list reorganizes around your choice. You might notice that those sequential result lists widen like concentric circles around the original request, becoming more adventurous.
We asked Michael Robertson whether Radio Search Engine is built for music discovery, or station discovery.
"I can see both. For me, I think of it as a radio experience, but with a lot more user control. It's what I call 'near-demand.' Not quite 'on-demand' — we don't have every song at your fingertips like Spotify. But you can get what you like. If you want to hear Genesis, you'll probably find six or eight songs to choose from."
Site testing bore that out, but the real value was discovering six or eight radio stations that we might want to return to. As a listening platform, Radio Search Engine is affected by the fact that you're usually entering a radio webcast in mid-stream. When searching for a song, you might not hear the whole thing. But Robertson told us about technology under the hood which minimizes the partial-song issue.
"When you click on a song, I'm going to do my best to give you the beginning of the song. We do many interesting things behind the scenes. When you search for a popular song, like Katy Perry's 'Roar,' Radio Search Engine gives you a whole page of 'Roar' songs [playing on radio stations at that moment]. What many people don't realize is that we put the fresher ones at the top. But it gets trickier than that. When you click on one of the station results, the site might actually play the song on a different station because it's fresher. The site checks all the stations every three-to-five seconds. With very popular songs, you can sometimes get five seconds of the DJ talking before the song starts."
When using Radio Search Engine, it's natural to compare it to TuneIn and iHeartRadio, which aggregate radio stations. Robertson characterized those services as directories, and compared his site to Google's emergence as a real-time, long-tail search engine. His intent is to give people a new way of interacting with radio, and notes that "radio hasn't really changed much." We would point to HD Radio and satellite radio as significant branches from core radio technology, but we get his point.
For us, we'll stick to the subscription music services for on-demand music playback. But we'll continue using Radio Search Engine for its beguiling station discovery and the fun of digital-age dial surfing. We look forward to new features as they are added.