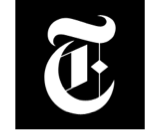 The New York Times, producer of The Daily, one of the world's most popular podcasts, is announcing the a beta testing launch of a NYT-specific listening app called New York Times Audio. Doing so stakes a reputational claim as a leading audio producer and podcast network worthy of a dedicated app.
The proposition is that the Times' audio content is both voluminous and popular enough to pull listeners out of Apple POdcasts, Spotify, and other global podcatchers. The organization cites statistics to back up that proposition: "The Times has developed robust and wide-ranging audio programming — cultural criticism, newsmaker interviews, provocative debate — that reaches 20MM listeners each month."
In addition to The Daily, which is certainly the polar magnet of NYT audio, the company acquired Serial Productions last summer, started a dedicated audio division five years ago, and acquired the specialty article-reading outfit Audm in March of last year. Additionally, the Times is building a portfolio of article reads by the article authors — those are promoted in a new "Listen" section of the NYT subscription reading app.
All of this owned audio content lends itself to a dedicated app experience. The development is happening in iOS only for now, and the NYT is soliciting volunteers for early beta testing. It's invite-only; go HERE to volunteer.