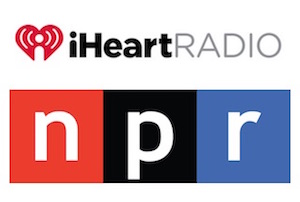 NPR is coming to iHeartRadio. According to a new deal between the public radio organization and iHeartMedia, more than 260 NPR member stations will have the opportunity to stream their live news and talk programming on iHeartRadio.
"The addition of NPR's Member stations helps to create even more signature audio content for iHeartRadio listeners," said Darren Davis, president of iHeartRadio and iHeartMedia Networks. "By joining forces, it is the perfect way for public radio stations to reach listeners on new platforms and to provide iHeartRadio users with additional high-quality News Talk programming wherever they are."
NPR's entrance in iHeartRadio is nice added distribution for the public radio network, of course. For iHeart, it's a meaningful piece of competitive positioning with regard to TuneIn, which streams public radio stations.
Interestingly, the NPR stations that use iHeartRadio will have the option to manage half of the digital banner inventory on their landing pages. That means they can include listener calls to action for donations or station support.