NPR is the leading podcast network in both types of measurement used by Triton Digital in the company's most recent U.S. Podcast Report (November 30 through January 3). This ongoing study marks off four-week measurement periods.
Tracked by Average Weekly Downloads (number of plays), and Average Weekly Users (size of audience), NPR took the #1 spot in both. Stitcher followed with the #2 placement in both measurement types. As with many other rankers, this one collects info from the company's clients. iHeartRadio, which sometimes takes the top spot in Podtrac's monthly ranker, is not in the Triton cohort.
In all rankers, one content strategy is undoubtedly helpful: frequent posting of episodes. NPR's top show which took the #1 spot in Triton's list of top 100 podcasts, is NPR News Now, which posted 840 episodes during the measurement period. Compare that to Crime Junkie, the AdLarge/cabana show, which took #2 in Average Weekly Downloads, on the basis of seven episodes. (Triton does not divulge actual download numbers, so we cannot remix the ranker by average downloads per show.)
Looking at the top podcasts by Average Weekly Users, NPR took both the #1 slot (NPR News Now again) and the second spot with Up First, the morning news program. Up First posted 35 episodes during the period. No other podcast in the top 11 pushed out as many episodes.
Among top podcast publishers, stability ruled the Triton charts with an iron fist. In Average Weekly Downloads, only two networks changed position, as Wondery and Entercom/Cadence 13/Pineapple Street Studios flipped the #3 and #4 spots. And their numbers are almost the same.
Nothing succeeds like success — that is the mantra of the Triton Digital reports, as podcasting continues its hierarchical resemblence to radio and TV.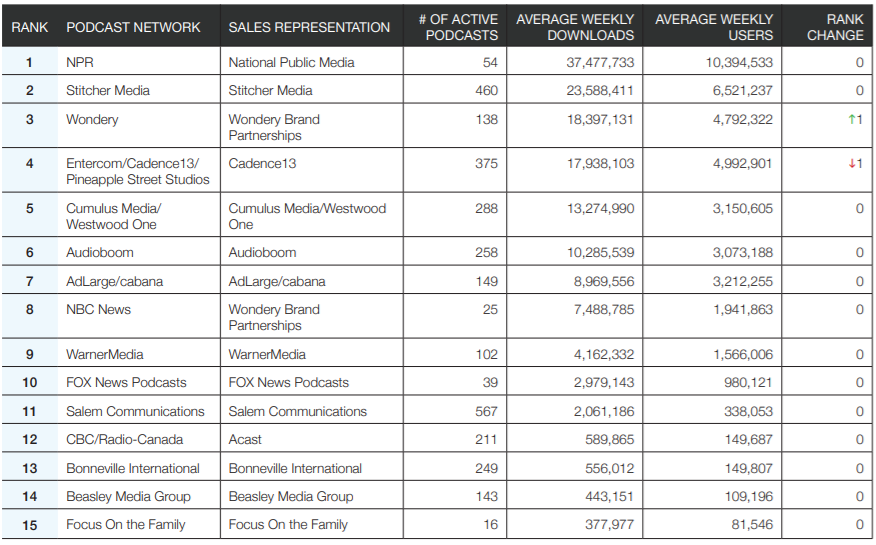 .