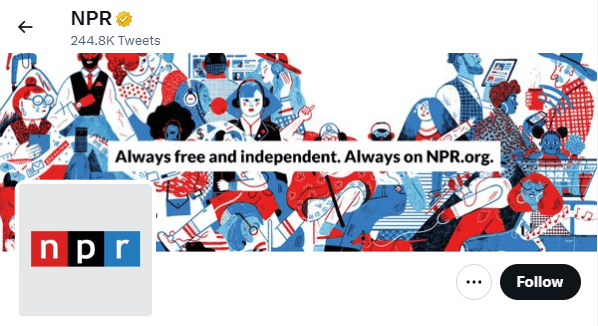 NPR's most recent content post on Twitter is dated April 4 — a piece of political news. After that post, Twitter CEO Elon Musk applied this identifying label to NPR's account: "Government-funded media." (An earlier label was "State-funded media.")
In reaction to receiving that unremovable label, NPR is ceasing all its Twitter activity across all NPR brands, as reported in Variety.
This morning we see a tweetstorm of NPR links to the network's other social sites and public resources — clearly an invitation for the network's 8.8-million followers to follow NPR out the door.
"NPR produces consequential, independent journalism every day in service to the public," the network placed at the head of several posts which include links to newsletter subscriptions, other social accounts, the NPR One mobile app, and enabling mobile push alerts for news updates.
---