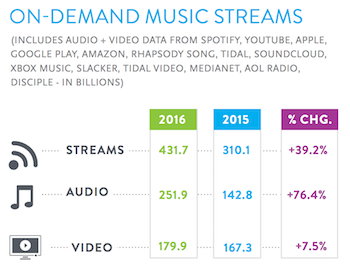 "Music consumption is at an all-time high," according to Nielsen Music's 2016 U.S. Year-End Report. The analysis reveals that 2016 was another year with strong streaming growth and some compelling trends for albums.
The entire music industry posted a 3.1% increase in overall volume, with total album consumption reaching 560.7 million units. That data point includes track equivalent albums (where 10 tracks count as one album) and streaming equivalent albums (where 1,500 streams count as one album). All digital music consumption rose 8.9% to 442.4 million units.
On-demand streams were the star of the past year for the industry. Audio streams rose 76.4% to total 251.9 billion while video streams increased 7.5% to 179.9 billion. Nielsen calculates those on-demand stream figures from Spotify, YouTube, Apple, Google Play, Amazon, Rhapsody (now Napster), Tidal, SoundCloud, Xbox Music, Slacker, Medianet, AOL Radio, and Disciple.
Online streaming services increased in usage over the year. According to Nielsen, 80% of music listeners used one of those services in the last 12 months; in 2015, the rate was 75%. Those services hold a 6% share in average music spend. Satellite radio subscriptions account for a 10% share of music spending, while digital music count for 10% and physical music is 11%. Live music and concerts still take the lion's share of a typical listener's music expenses.

Music discovery is usually an intriguing point in Nielsen's data. AM/FM radio is the most popular discovery source at 44%. Online audio or video sites ranked fourth with 22%.
The recently concluded year marked another period of declining sales for the traditional album format. CD sales fell 16.3% and digital download sales dropped 20.1%. As with 2015, vinyl sales were the bright spot with 10% growth, but it still only represents a sliver of the overall market with 13.1 million units.
Despite the declining sales, albums and artists that followed less traditional distribution paths were among the most successful in 2016. Drake's Views was the top album, followed by Adele's 25, Beyoncé's Lemonade, and Rihanna's ANTI. Views was an Apple Music exclusive for multiple weeks, while Lemonade and ANTI were both projects tied to Tidal. Adele eschewed streaming entirely at her album's launch in late 2015, and her continued strong performances in album sales kept 25 as the year's No. 2 album.
Granted, each of the four are well-established performers with dedicated fan bases. That existing listener support likely allowed those acts to be so successful with their alternative album releases. But both the popularity and the high visibility of their choices could encourage streaming music businesses to make sure they have the infrastructure to support those unique projects.