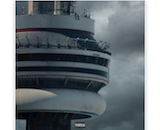 Seems Drake is quite the tease. Even though he said in a Beats 1 interview that his new album Views would be exclusive to Apple Music for one week, fans on other platforms will have to wait a little longer. Apple confirmed that the album will not open up to other streaming services until May 13th, two weeks after its launch.
Even though it's only out on Apple Music, Views has been posting big numbers. In its first day alone, the album netted an equivalent of more than 600,000 sales. Apple said that in its first five days, the album generated more than 250 million streams globally.
The artists exploring this windowing approach to distribution will likely need to experiment to figure out the butter zone: the length of time that nets them sales while not withholding so long that listeners lose interest or turn to piracy. The numbers will show what the right call is for Views.