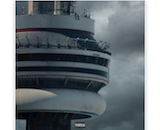 Drake dropped his latest album, Views, as a windowed Apple exclusive on Friday. So far, the move seems to be a lucrative one. According to BuzzAngle Music, Views posted a total album project number of 646,521. That included 637,862 album sales and 54,901 in individual song sales. The album saw more than 4.7 million streams on Apple Music in the first day's numbers.
The bulk of those sales and streams were in the U.S. (album sales of 574,604 and almost 4.3 million streams). In Drake's home market of Canada, album sales totaled 62,690 and 454,473 in streams.
Views will be exclusive to the Apple music ecosystem for one week before it goes to any other services. In that time, it won't even be available for physical retail. This windowing phase is just the latest example of Drake's close business relationship with Apple, which was recently announced as a sponsor of the performer's upcoming summer tour.
It's also the latest in a string of major album launches so far this year to play with new distribution models. Rihanna's ANTI included a free giveaway thanks to a Samsung sponsorship, which put her edgy new work in front of a big audience right away. Kanye West's The Life of Pablo was only on Tidal for several weeks before getting a broader release. Beyoncé's Lemonade, which Views just dethroned as the top album, could be downloaded anywhere but only streamed on Tidal.
So far, the successful windowing practitioners we hear about are A-list performers, with lots of talent, money, and fan love to support their choices. It is possible that, for this business model to take off, those A-listers can start to convert their fans to accept the approach as the new normal for music consumption.